September 13, 2022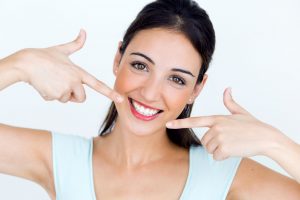 Commercials might have you believe that your teeth should remain white and bright for your entire life. However, it's actually common for your teeth to darken as you get older. In addition to being a normal part of aging, tooth discoloration could also happen due to the foods you eat, the beverages you drink, and how well you stick to an oral hygiene regimen. This means that the shade of your teeth could actually reveal quite a bit about you! Read on to learn about some of the things that tooth color could convey.
Tooth Colors & What They Could Mean
Your teeth are surrounded by a thin layer of a hard substance called enamel. Under that is a thicker and slightly less hard layer of dentin. The dentin is primarily responsible for the hue of your teeth, but enamel can also have an impact.
So, how exactly does this play out in the way your smile looks? Here are some of the most common tooth colors and what they might signify.
White
Have you ever noticed that babies always seem to have super-white teeth? Teeth tend to be at their brightest at this age for many reasons. For one, infants rarely drink staining beverages like tea and coffee. Plus, primary (baby) teeth have much lighter dentin than adult teeth. So, less color is visible through the translucent enamel.
Light Gray or Light Yellow
After permanent teeth have replaced the baby teeth, the smile becomes darker. This is mainly due to the difference in the tooth structure. Dentin makes up a larger percentage of permanent teeth than enamel does, meaning this darker section has a greater effect on the teeth's appearance. As the dentin darkens over time, it becomes increasingly visible through the enamel, creating a yellowish or grayish hue.
Yellow
In addition to darker dentin, noticeably yellow teeth are usually caused by foods and beverages that have stained the enamel. The buildup of harmful plaque on the teeth could also leave the teeth yellow, even after plaque has been removed at the dentist's office.
Brown
Often, teeth only become brown when yellow stains have worsened. This could be due to a number of factors, including injury, certain medications, genetics, and tobacco use.
Reverse Tooth Discoloration by Visiting Your Dentist
Depending on the current shade of your teeth and how they became discolored, your dentist has plenty of options for brightening your grin. They might provide custom teeth whitening kits that are several times more potent than over-the-counter alternatives. If the stains are so deeply set that whitening solutions don't work, your dentist might recommend bonding or veneers to simply cover up the discoloration.
As you can see, the color of your pearly whites can reveal a lot about you! If you're interested in changing what the world can see from your smile, reach out to your cosmetic dentist in Freedom, WI. They'd love to help!
About the Practice
At Dental Expressions, our husband-and-wife dentists, Drs. Bob and Heather Heil, provide family-friendly dental care to Freedom, WI and the surrounding communities. They each have over two decades of experience. We offer ultra-potent take-home teeth whitening kits, as well as a host of other cosmetic dentistry services, to help patients achieve the bright smiles they've been waiting for. If you'd like to transform the color of your teeth, learn more by contacting our office at (920) 788-6280.
Comments Off

on What Does the Color of Your Teeth Mean?
No Comments
No comments yet.
RSS feed for comments on this post.
Sorry, the comment form is closed at this time.