Single Tooth Replacement – Freedom, WI
Fill the Space with a Dental Implant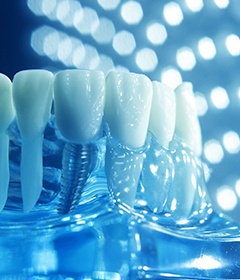 A missing tooth is a serious problem. Although it may only be one tooth, you lose your confidence and your ability to enjoy your favorite foods. While it may seem like nothing more than a nuisance, leaving the tooth untreated causes significant complications for your oral health. Do not worry. We have the solutions you need for a single tooth replacement in Kaukauna. Besides a traditional bridge and crowns, we also offer the most effective option with a dental implant.
Single Tooth Replacement Options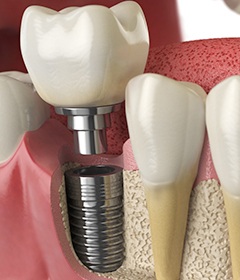 When you lose a tooth, the crown is not the only thing missing from your smile. You also lose the root. This causes your jawbone to slowly deteriorate because it is no longer stimulated. This makes your remaining teeth lack the proper support, so they drift toward the open space. As your teeth move out of position, they become more difficult to clean. This makes you more prone to tooth decay and gum disease.
As more time passes, it is common for your teeth to become loose and fall out. Your facial features also change because they no longer have the support they need.
We can help you stop the devastating complications of tooth loss with the right treatment plan.
Fixed Bridge: More commonly known as a bridge and crowns, a prosthetic tooth is created to fill the empty space. Your adjacent teeth are reshaped to allow custom-made dental crowns to be bonded to them to hold the bridge in place. This has been a common treatment for decades because it is convenient and can last for an average of 5 years before needing to be replaced.
Dental Implant: Now, more than 500,000 people per year turn to dental implants to treat a lost tooth. By surgically placing a titanium implant post into your jawbone, it replaces the root. A crown is then attached to it by connecting an abutment to the post. This has become the preferred treatment because it has the potential to last for a lifetime.
Benefits of a Dental Implant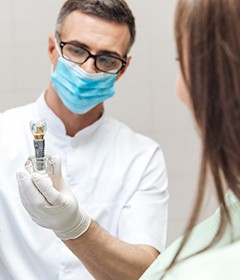 Dental implants in Kaukauna are the next best thing to your natural teeth because they replace both the root and the crown. This allows them to provide exceptional benefits that are not possible with any other treatment, including:
Over a 95% 10-year success rate.
All-ceramic material creates natural-looking results.
Feels natural because there is no slipping or irritation.
Restore as much as 70% of your biting force.
Stops dental drift.
Stimulates new bone growth.
Reduces your risk of tooth decay, gum disease, and additional tooth loss.
Protects your facial structures.
Cost-effective because it does not need to be replaced.
Easy maintenance and care.
Potential to last for a lifetime.
Schedule an Appointment Today
You can restore your confidence and your quality of life by replacing your missing tooth. If you are ready to invest in a beautiful, functional smile, contact our office today to schedule a consultation. We have the solution you need!