Preventive Dentistry – Freedom, WI
Care That Keeps Smiles Healthy for Life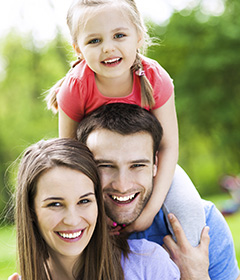 When you think about a trip to the dentist, you probably think about a dental cleaning and exam. Those two services are the cornerstone of general and family dentistry, but there's so much more to your dental care than these two procedures. Sure, we want to see you every six months at our Freedom dental office near Kaukauna for a cleaning and exam; these are the keys to lifelong dental health. However, at various points you might find yourself needing something more, and we can offer other general and family dentistry services as well. We go above and beyond the basics at Dental Expressions.
Dental Cleanings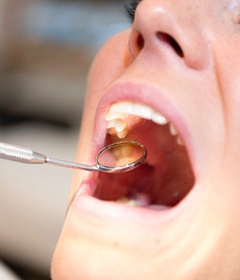 Starting at square one, your first visit to our office will likely include a general and family dentistry exam and professional dental hygiene treatment. During your cleaning, we remove the plaque and tartar that causes so many dental health problems, from cavities to gum disease to tooth infections. We'll look for signs of gum disease and teeth grinding, and we'll ask you specific questions about various aspects of your oral and overall health. We'll use our intraoral cameras, digital X-rays, and DIAGNOdent technology to look for tiny problems that might not be obvious during a visual exam or easily found with the dental probe. Dental X-rays can help us discover decay, abscesses, bone problems, signs of cancer, bite problems, and problems with the tooth roots. Technology greatly increases the positive impact of your general and family dentistry visits at Dental Expressions.
Children's Dentistry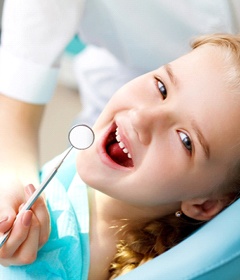 It's never too early to start learning how to take care of your teeth. In fact, the sooner, the better! At Dental Expressions, our team can help your child develop the necessary skills to keep their smile healthy, and our services can protect them against tooth decay and infection. After all, children are more susceptible to cavities, especially between the ages of 5 and 17. As the parents of four children, Drs. Bob and Heather Heil know how to make young patients feel comfortable in the dentist's chair and understand the importance of oral hygiene.
Oral Cancer Screenings
You've surely heard of oral health problems like cavities and gum disease – but what oral cancer? While not as well known, this condition has some staggering statistics associated with it. For instance, one American adult dies from oral cancer every hour on average, and half of the people diagnosed this year won't go on to live more than five years. Thankfully, the odds of successful treatment are high as long as the disease is caught early on. That's where our team here at Dental Expressions comes in. During regular exams, we'll be happy to expertly scan your mouth for any tell-tale signs of oral cancer, including sores, lumps in the skin, and color changes in the tissue. If we find anything concerning, we can help you take the next step towards a smooth diagnosis and treatment.
Periodontal Therapy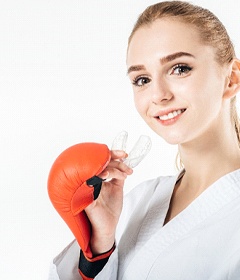 Part of your routine checkup consists of measuring the depths of the pockets between your teeth and gums. This quick test indicates whether your gums have an infection, i.e., gum disease. If we find that you have deep pockets, we will provide the treatment necessary to eliminate the harmful bacteria and plaque in your mouth. We'll perform scaling and root planing, procedures that clean out buildup below the gumline, facilitate gum reattachment, and prevent future infection. If necessary, we may also prescribe an antibiotic to ensure that no bacteria remain.
TMJ Therapy
If your upper and lower teeth don't line up correctly or if you grind or clench your teeth, you can experience frequent headaches or pain in your jaw. That's because these situations can lead to the temporomandibular joint (TMJ) and its muscles becoming strained, causing you a multitude of problems, including difficulty opening or closing your jaw and pain that extends to your head, shoulders, neck or back. Luckily, Dr. Bob and Dr. Heather Heil can provide relief!
Sleep Apnea Therapy
Do you snore loudly? Do you wake up feeling tired even though you've had a full night's sleep? If so, you may have a condition called sleep apnea, where your breathing is interrupted and your ability to achieve deep rest is impeded. In addition to sleep deprivation, sleep apnea can have serious consequences for your health, including a higher risk of a cardiovascular event, such as a heart attack or stroke. Our dentists may be able to help you treat your sleep apnea with an oral appliance that keeps your facial tissues from obstructing the airways, allowing you to breathe and rest easy.
Athletic Mouthguards
Are you or your child active in sports? Accidents can happen, particularly in contact sports, so don't leave your teeth unprotected. Although you can find mouthguards in stores, they are made to fit the general public. As a result, they can feel uncomfortable, slip out of place, or be ineffective altogether. A custom mouthguard from Dental Expressions is guaranteed to be a perfect match for you or your child and keep teeth safe.
Make an Appointment
Drs. Robert and Heather Heil know family is important. They have four sons, and they want their sons to have healthy smiles. They want you and your family to have healthy smiles, too. Contact our office to make an appointment with one of our Kaukauna dentists today. Families from all over the Fox Cities, including Appleton, trust Dental Expressions with their general and family dentistry care. People visit our office from Green Bay as well, coming to us for the friendly service and family-oriented atmosphere as well as the convenience.