Freedom, WI Cosmetic Dentist Creating Beautiful Smiles
Fall in love with your smile at Dental Expressions.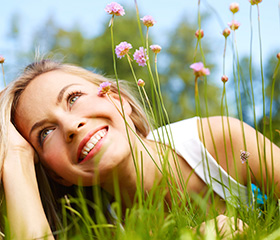 There are lots of reasons to smile. Smiling can improve your mood, alleviate stress, strengthen your immune system, lower your blood pressure, and make those around you happier as well. You spread joy every time you smile. Do you like your smile, though? If you don't, you might hide it, and you won't get all these benefits if you're not smiling. At Dental Expressions, we offer cosmetic dentistry services that will help you not only like but love your smile. Before you know it, you'll be showing your smile every chance you get.
What types of cosmetic dentistry services do we offer at our Freedom dental office near Kaukauna?
Cosmetic dentists Drs. Robert and Heather Heil will use cosmetic imaging to show you what your smile will look like post smile makeover. Together, you'll discuss what you want to get out of cosmetic dentistry, and you'll design a plan for your smile that might include just one or several treatments. We want you to be happy with your smile!
Cosmetic Dental Bonding
One easy way to tap into the power of cosmetic dental care is with cosmetic dental bonding. Quick and easy, cosmetic dental bonding procedures can be performed in a single visit to our Freedom dental office near Kaukauna, and this conservative treatment helps us preserve as much of your natural tooth structure as possible. What types of problems are treated using cosmetic dental bonding?
Small gaps between front teeth
Chipped teeth
Cracks in teeth
Uneven teeth
Uneven teeth can be the result of teeth grinding, while small chips can happen for any number of reasons. You want a smile that looks healthy and unblemished, so for minor smile problems, you might consider cosmetic dental bonding.
Complete Smile Makeovers for the Fox Cities
Some smiles suffer from a number of aesthetic problems, from discoloration to missing teeth. A complete smile makeover plan will combine various cosmetic dentistry procedures to transform your smile in ways you never dreamed possible. We'll make sure your new smile looks natural; you don't want it to look like you've had work done. But using modern dental care treatments like porcelain veneers, porcelain crowns, cosmetic dental bonding, and teeth whitening, making your smile look more beautiful and while retaining your unique look is easier than ever. We can customize your porcelain dental restorations to match the rest of your smile.
If you're near Kaukauna or any of the other Fox Cities, including Appleton, contact Dental Expressions to discuss your cosmetic dentistry options with Dr. Robert or Dr. Heather Heil. We've helped people from Green Bay love their smiles as well. We know the power a smile has to make life better – make your life better at Dental Expressions.