Invisalign with Dental Expressions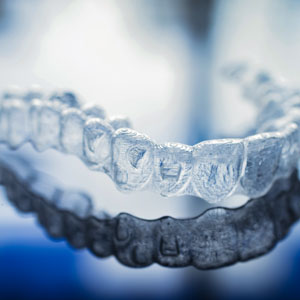 Many patients are dissatisfied with the alignment of their teeth. It can make them feel awkward when talking or eating, and even cause some patients discomfort. A typical solution to this problem over the years has been metal braces. However, many patients are averse to the idea of wearing the brackets and wires because of how they would change their appearance. Dental Expressions can now offer a viable alternative with Invisalign in Freedom, WI.
What Is Invisalign? How Does It Work?
Invisalign is an orthodontic treatment that can help patients with an overbite, underbite, or generally misaligned teeth bring them into a straighter, more comfortable orientation. It accomplishes this by using clear plastic aligner trays that fit over your teeth. The trays are meant to be worn in a specific series, with each one being a different shape that gradually changes as your teeth move into alignment. The individual trays are meant to be worn up to 22 hours a day for about 2 weeks before moving onto the next one. Treatment can take anywhere from 8-18 months depending on your degree of misalignment. Invisalign has advanced over the years to be able to address more and more complicated orthodontic issues, so most patients who are considering treatment should be good candidates for it.
What Is The Process Of Getting Invisalign?
The first step is that Dr. Robert and Dr. Heather Heil will need to give your teeth a thorough examination. This will allow them to see if Invisalign is the right treatment for you, as well as allow you to ask any questions you might have. Should you decide to go forward, the process will start with their team taking a series of x-rays and photos of your mouth. These will be used to make your trays and assure they are perfectly fitted to your particular teeth. Once you have started wearing your trays, you will need to visit the office about every 6-8 weeks so your progress can be monitored.
Invisalign vs. Traditional Braces
Invisalign in Appleton, WI has a number of advantages when compared to traditional braces, such as:
The clear plastic makes them much less noticeable on the teeth compared to braces.
The trays are removable, which allows the patient to eat and care for their teeth as they would normally.
The smooth plastic tends to be less irritating to the surrounding soft tissue of the lips and gums than braces.
The trays often work faster to correct issues than traditional braces.
Invisalign requires less frequent visits to the dentist's office.
Invisalign helps patients undergo orthodontic treatment without having to alter their habits like they would with braces. The discreet appearance allows them to keep their treatment private, and many people forget they are wearing their trays throughout the day until it is time to eat or brush their teeth.
iTero Scanner
One of the benefits of Invisalign is just how much your treatment is personalized. Every aligner is designed to match a different stage of your realignment and requires a high level of precision and detail to create. With the help of the iTero Element scanner, we can easily capture digital impressions of your teeth in a matter of minutes. That means no unpleasant impression material is needed just to fabricate your aligners. After capture, we can create your aligner series and even show you what your smile will look like following your treatment through Invisalign's outcome simulator.
Is Invisalign Right For You?
You can get the straighter smile you've always wanted without having to get braces, all thanks to Invisalign.
If you think Invisalign could help your smile, please call your cosmetic dentist in Freedom, WI today.