Improving Freedom Smiles with Dental Implants
Dental Expressions offers this modern tooth replacement technique for complete smiles.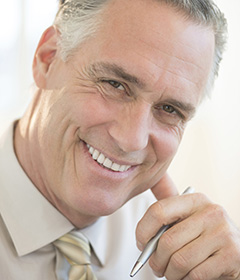 Missing teeth are a problem that many people face, and if you're missing a tooth or a few teeth, you know that this problem can diminish your self-esteem and cause discomfort. Missing teeth contribute to a range of oral health problems beyond appearance issues, and replacing them is of great importance. Dental implants offer a replacement method that looks and functions just like real teeth. If you've been wearing a denture or fixed bridge and would rather try a method of tooth replacement with even greater stability and comfort, you might want to consider dental implants.
Drs. Robert and Heather Heil of Dental Expressions near Kaukauna, WI can provide dental implant restorations once the dental implants have been surgically placed. With dental implants, your smile will once again look complete, and there's no reason anyone would ever know you've ever lost a tooth.
Why dental implants?
You might want to consider dental implants for a variety of reasons. You're a candidate for dental implants if:
You are missing a single tooth or several teeth.
You have a fully-grown jaw bone.
You have adequate bone to support the dental implants.
If you do not have adequate bone, you can have a bone grafting procedure performed.
You have healthy gums.
You don't have serious health complications that could interfere with healing.
You do not want to or cannot wear dentures.
You want to improve your ability to eat and speak comfortably.
The first step in any dental implants process is to have a thorough dental exam performed. We can take X-rays and assess the health of your remaining teeth, gums, and jaw bone to determine the appropriateness of dental implants. Once the exam has been performed, we will help draw up a course of action. Our office does not surgically place your dental implants. However, we will be part of the team during the process.
What to Expect
The entire process of dental implants placement and restoration will generally take about three to nine months. If needed, a bone grafting procedure will be performed prior to the placement of your dental implants. While this might seem like a long time, it's worth it when you consider all the benefits of dental implants.
A dental implant is surgically placed in your jaw bone and then allowed to heal for a few months. During this time the dental implant fuses to your jaw bone, providing security you can't get with dentures or fixed bridges. After the healing process is concluded, we place the dental crown on your dental implant and your smile is complete.
Benefits of Dental Implants
The benefits of dental implants include:
Strength
Stability
Durability
Facial support
Predictability
Ultimately, most people choose dental implants because they want to regain the ability to eat, speak, and smile comfortably and confidently.
Would you like to discuss the possibility of dental implants with one of our Kaukauna dentists? Contact Dental Expressions to make an appointment. We serve patients from all of the Fox Cities, including Appleton, as well as Green Bay. We want to make sure that you have a smile you can be proud of, and we help make this happen with dental implants.