Dental Implants – Freedom, WI
Rebuild a Beautiful, Strong, and Complete Smile!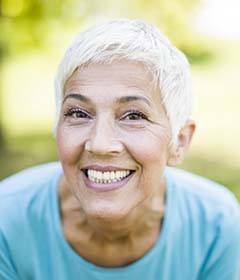 Are you among the more than 170 million Americans who are missing at least one tooth? If you are, then you already know that tooth loss can make it hard to smile with pride. But the problem goes further than that; failing to replace missing teeth can contribute to a range of oral health issues down the road. There are several options to replace your teeth these days, but Dr. Bob and Dr. Heather often recommend dental implants due to their ability to look, feel, and function just like real teeth. If you're interested in regaining the smile you used to have, contact our team at Dental Expressions today to learn more about dental implants in Freedom, WI!
Why Choose Dental Expressions for Dental Implants?
Partnered with Skilled Oral Surgeons for Dental Implant Placement
Flexible, Low-Interest Dental Payment Plans Available
Friendly Dentists with 20+ Years of Experience
What Are Dental Implants?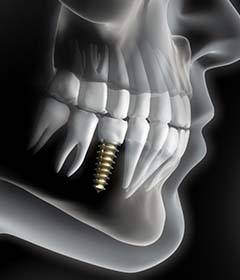 A dental implant essentially recreates the supportive root of your missing tooth, which is located underneath the gumline. The implant itself is a small titanium cylinder that is surgically inserted into your jawbone. Because titanium is extremely durable and biocompatible, the post actually fuses with the surrounding bone tissue until it is just as embedded in your jaw as your natural tooth roots. Once this process, known as osseointegration, is complete, your implant can support any number of replacement teeth via a lifelike dental crown, bridge, or denture. Basically, dental implants rebuild your missing teeth from the roots up, allowing them to mimic your original pearly whites in virtually every way.
The 4-Step Dental Implant Process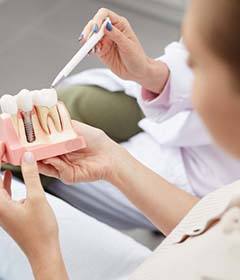 Because dental implants have a unique structure that closely resembles your real teeth, the treatment is more complex than that of traditional options like dentures or dental bridges. Our dentists work closely with a network of oral surgeons in the Freedom area to ensure that your tooth replacement goes as smoothly as possible. While each patient experiences a slightly different process, the four basic steps are the same: the initial consultation, the dental implant surgery, osseointegration, and the placement of your final restorations.
Benefits of Dental Implants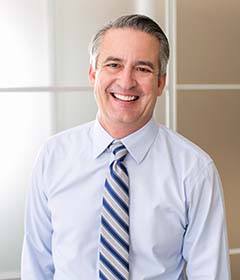 There are many benefits of dental implants in Oshkosh. Choosing this type of tooth replacement will present you with many unique advantages other solutions cannot match. Unlike dentures and dental bridges, dental implants make it possible to regain the nearly full functionality and maintain a smile that will last 30 years or longer. When meeting with our dental team, you can expect us to go through the many benefits of these prosthetics, but if you would like to get a head start, review the following information as you consider the future of your smile.
Day-to-Day Benefits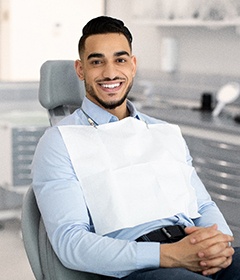 No Food Restrictions: Because dental implants replace the root of teeth, you can expect many of your tooth's previous functions to come back. For example, your biting strength increases, making it easier to enjoy your favorite foods.
Enhanced Appearance: Blood flow is reestablished when you replace a missing tooth in this way, which means your cheeks will not hollow out but instead, retain their elasticity.
Minimal Maintenance: Your dental implants in Oshkosh will be easy to maintain because they act just like regular teeth. Brushing, flossing, and rinsing require no special products or equipment.
Ability to Live Life to the Fullest: You can freely eat, speak, and smile with dental implants. You'll never need to worry about being embarrassed by your prosthetics but instead, you can engage in conversation, attend social gatherings, and ultimately, live your best life.
Health Benefits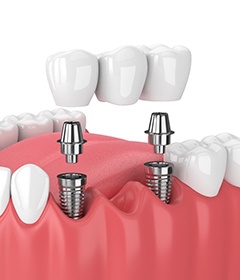 Structural Integrity Remains: Dental implants are strong enough to hold restorations entirely on their own. This means you won't have to sacrifice existing tooth enamel just to fill the gap in your smile.
Prevention of Jawbone Deterioration: The continuous stimulation offered by your implants will ensure your jawbone remains sturdy and does not collapse or deteriorate over time.
Improved Overall Health: You won't need to worry about tooth loss causing diabetes, heart disease, or osteoporosis. With these permanent prosthetics, you can avoid many of the most common systemic problems that are commonly caused by nonexistent teeth.
Long-Term Benefits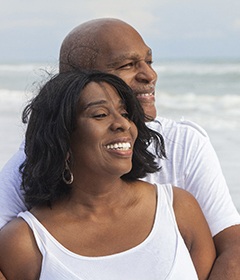 Long Lifespan: With a success rate as high as 98 percent when placed by a trained implant dentist in Oshkosh, you can expect your implant to last up to 30 years or longer when you practice routine oral care.
Success Rate After 10 Years: If you continue to commit to proper oral hygiene and take better care of your new teeth, you can expect that success rate to remain between 90-95% after 10 years!
Money-Saver: If you like the idea of saving money, you can with dental implants. Although costlier upfront, these prosthetics require no denture adhesives or special cleaning supplies, which can add up over the years when wearing dentures or dental bridges. Also, you won't need to worry about investing in frequent adjustments or replacements.
Who Dental Implants Can Help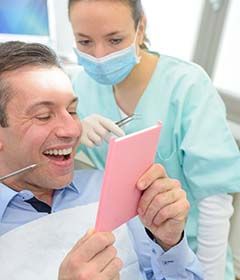 If you're an adult in generally good health and have lost one or more teeth, you're most likely a good candidate for dental implants! After an initial consultation, Dr. Bob and Dr. Heather will determine which type of dental implant treatment is right for you based on the extent of your tooth loss.
Missing One Tooth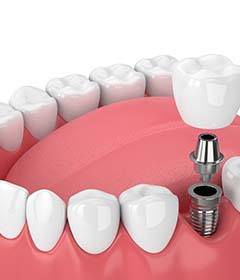 If you only need to have one tooth replaced, then we can install a custom dental crown on top of a single implant post that has been inserted into the empty space.
Missing Multiple Teeth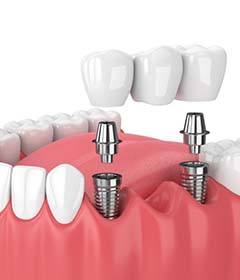 If you are missing several teeth in a row, an implant-supported bridge may be an appropriate solution for you. This type of restoration has two crowns on top of dental implants. One or two pontics (artificial teeth) are suspended between the crowns.
Missing All Teeth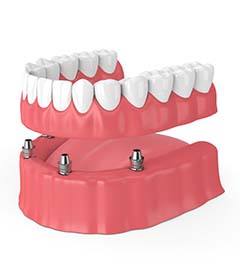 An implant-supported denture, which can replace all of the upper or lower teeth, is a fitting solution for many patients who have suffered extensive tooth loss. The denture may be either a fixed or removable prosthesis.
Understanding the Cost of Dental Implants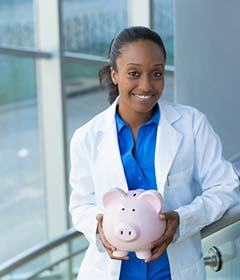 The price of dental implant treatment can vary dramatically from one patient to another due to all of the variables that come into play. Your surgery, the implant posts, and the restorations that go on top of them will all incur their own costs. Logically, the more extensive your tooth loss, the more the total price of your restored smile will be because you will require more implants and a larger restoration. When you attend your dental implant consultation, you'll gain a clearer picture of how much your procedure will cost.
Although this treatment tends to cost more than alternative tooth replacement methods, it is a worthwhile investment! The long-term benefits that dental implants provide for your oral health, confidence, and appearance make them a truly life-changing treatment.
Dental Implant FAQs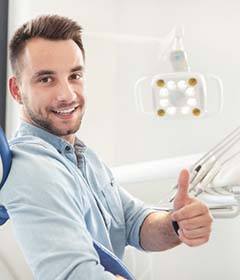 Are you still wondering about what tooth replacement solution is the best fit for you? If you are wondering about getting dental implants in Freedom, you can get your questions answered by reading some of the common ones that we receive from patients that are addressed below.
Does it hurt to get dental implants?
If you've never had any type of surgery before, it can seem daunting to have dental implants placed. However, you'll be happy to know that our dentists ensure that your experience will be completely painless. Before your procedure begins, your oral surgeon will administer local anesthesia so you can't feel any type of discomfort while they place the implants below your gums. Depending on how many implants you need placed will determine how long the surgery takes.
In addition to anesthesia, the area where the implants will be placed doesn't have many pain-sensing nerves. Plus, there will be sedation options available as well to help you feel more comfortable and relaxed.
What is the recovery like after dental implant surgery?
After your surgery, you will experience some tenderness and discomfort while your gums are healing. However, most of our patients report being able to return to their daily routines within a day or two. As your gums heal, you can use over-the-counter pain medication such as ibuprofen to help make you more comfortable.
It's also not uncommon for patients to experience some tension or soreness in the chin, cheeks, and even underneath the eyes, so if you notice this, don't panic. Placing a cold compress on the area can help bring down any swelling and address this issue. For the next week or two following the surgery, it's a good idea to maintain a soft-food diet to reduce any swelling and help your gums heal faster. It's also important to maintain your oral hygiene and gently rinse your mouth with warm salt water to clear debris and provide some extra relief.
How long do dental implants last?
With the proper care and maintenance, dental implants can last for over 25 years, which is, on average, about three times longer than traditional tooth replacement solutions like dentures. The implants themselves are made from titanium, which is a durable and biocompatible metal that forms a protective oxide layer around it when the implants are surgically placed below the gums. This prevents any deterioration or erosion from occurring.
After your restorations are secured to the abutments, we'll provide you with some additional tips and tricks to help extend the lifespan of your replacement teeth. Typically, these include:
Maintaining a thorough dental hygiene routine.
Visiting our office every six months for checkups and cleanings.
Avoiding consuming high amounts of sugars and carbohydrates.
Maintain a nutritious diet.
Quitting bad oral habits such as smoking.
Getting a customized nightguard for teeth grinding or TMJ disorder.
If you have any other questions following your dental implant procedure about maintenance and care, don't hesitate to contact our office.