Restorative Dentistry – Kaukauna, Wisconsin
We offer smile rejuvenation at Dental Expressions.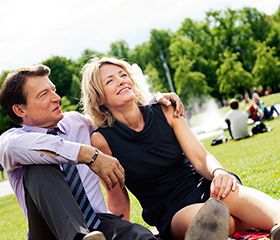 Thanks to improvements in oral healthcare, people are experiencing better dental health and a decrease in major oral health problems. Also, over the decades, improvements in dental treatment have greatly improved our ability to fix problems that once seemed unfixable. A long time ago, the most common dental treatment for oral health problems was to pull the tooth! Today, we have lots of ways to save your teeth, even in the face of infection and injury. Restorative dentistry procedures offer smile success for our Kaukauna and Fox Cities patients.
Contact Dental Expressions near Kaukauna, WI to make an appointment. We can discuss the restorative dentistry options available at our office and create a plan for rehabilitating your damaged smile. We can also use cosmetic dentistry procedures in conjunction with restorative dental care to really improve your smile. Patients from all over the Fox Cities, including Appleton, come to Dental Expressions, and folks in Green Bay won't find it too out of the way, either. When it comes to your oral health, you want to make sure that you choose dentists and a practice where modern care and patient comfort come first, which you'll find at Dental Expressions.
Why Might You Need Restorative Dentistry Care?
At Dental Expressions, we offer a number of restorative dentistry services that will help you accomplish any or all of these goals. From repairing a single broken tooth to performing a full-mouth reconstruction, we can perform a number of restorative dentistry procedures right here near Kaukauna.
Prevent tooth loss
Alleviate oral pain
Stop dental decay
Replace missing teeth
Make your smile more attractive
Restore damaged or broken teeth
Improve the function of your bite
Tooth-Colored Fillings
In order to quickly and cosmetically repair your smile following tooth decay or damage, we offer conservative tooth-colored fillings crafted from the highest quality composite resin. These treatments can be completed in just one appointment. We simply remove damaged tooth structure. Then, we apply the putty-like resin directly to the tooth, shape it into place, and use a curing light to harden the resin onto the tooth. We can also use tooth-colored composite to correct and conceal cosmetic flaws.
Dentures & Partials
To repair your smile following advanced tooth loss, we can craft a custom partial or full denture. Partials are crafted using a gum colored base material to support several consecutive and nonconsecutive replacement teeth. The entire prosthetic is held in place by clasps attached to surrounding teeth. Full dentures are made to replace one or both rows of teeth. Because there are no remaining healthy teeth to support the denture, the base material is crafted to fit against the gums, creating suction that holds the denture in place.
Dental Crowns & Bridges
For moderate dental damage or decay, a dental crown can be used to replace the lost tooth structure and protect remaining structures from additional damage. The crowns fit over the top of a damaged tooth. Fixed bridges are replacement teeth attached to dental crowns on both sides. The crowns are attached to healthy teeth on either side of the replacement tooth, seamlessly bridging the gap in your smile.
Learn more about dental crowns
Learn more about fixed bridges
Inlays & Onlays
When you have a damaged or decayed tooth that is too damaged for repair with a filling, we may still be able to provide a restoration that's more conservative than a dental crown. Inlays and onlays are made from high quality porcelain like dental crowns, but they allow us to maintain a greater amount of healthy tooth structure. Inlays are used to repair damaged structures between the cusps, raised parts of the tooth's surface. Onlays repair damage or decay that impacts one or more cusps.
Full Mouth Reconstruction
We offer a full range of restorative dentistry services, and this comes in handy when you're in need of a full-mouth reconstruction. Is your smile suffering from multiple health problems – cavities, broken teeth, missing teeth, or infection? Full-mouth reconstruction procedures combine multiple restorative dental care procedures into one treatment plan designed to correct multiple issues. You might be in need of a full-mouth reconstruction because you've experienced a facial injury, lost several teeth due to decay or damage, experience dental wear due to long-term teeth grinding, severe gum disease, or other oral health concern. We can rehabilitate your entire smile, fixing these problems and more, with restorative dentistry. In addition to repairing the form and function of your smile, our full mouth reconstruction plans also incorporate the cosmetic results.