Full & Partial Dentures – Freedom, WI
Helping You Get Your Smile Back
According to the American College of Prosthodontists, over 36 million Americans don't have any teeth and 120 million are missing at least a single tooth. If you suffer from tooth loss, you're definitely not alone. At Dental Expressions, we understand that your smile is a big part of who you are, and that when teeth go missing, it can make it hard to complete everyday tasks such as eating and speaking. That's why we offer full and partial dentures in Freedom for patients who are missing several or all of their teeth. With our high-quality prosthetics, we hope to improve the function and appearance of your mouth so you can enjoy a better life.
Full Dentures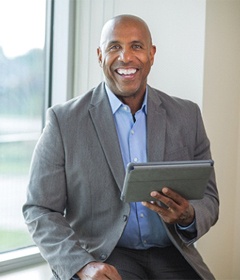 We recommend full dentures for patients who are missing an entire arch or all of their teeth. To make the restoration, our laboratory crafts them from natural-looking materials, such as gum-colored acrylic and customizable ceramic. These materials can be uniquely chosen to match the look of your remaining oral structure, making them virtually indistinguishable from your home-grown smile.
Traditional full dentures stay in place using a combination of denture adhesive and natural suction, allowing you to confidently eat and speak without them falling out of place. Some patients may also be good candidates for implant-retained dentures as well, which are a more permanent solution to tooth loss.
Partial Dentures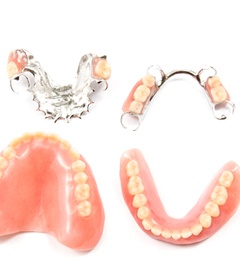 Partial dentures are a great solution for patients who are missing several teeth in an arch. They can be made from an acrylic or metal base that is attached to artificial replacement teeth. The foundation of the base is built to strategically fit around existing teeth to hold the replacements in place, making them discreet and conveniently removable. The base also provides them with added stability, making it easy to eat and speak with them in your mouth.
The Importance of Replacing Missing Teeth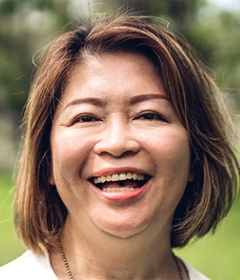 Even if you're missing a few teeth, replacing them is important, especially in order to save your remaining ones. Not only can tooth loss lead to decrease confidence, but it also impacts your everyday life, causing a variety of inconveniences. Here are some reasons why we recommend that patients replace missing teeth as soon as possible:
Prevent surrounding teeth from drifting out of place to fill gaps in your smile.
Reduce your risk of oral health problems by closing gaps that can collect plaque and food debris.
Make it easier to chew and digest food.
Preserve your facial structure.
Prevent future conditions, such as TMJ disorder, from developing.
If you have any questions or would like more information on how to restore your smile, don't hesitate to contact our office.