Multiple Tooth Replacement - Freedom, WI
Rebuild a Beautiful Smile Today!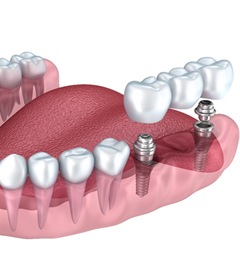 Losing several teeth is devastating to your oral health, quality of life, and your self-esteem. Now, there are various solutions for multiple tooth replacement in Freedom. Besides traditional treatments, you could discover the security of dental implants. With so many options available, we understand it can be difficult to choose which one is best. At Dental Expressions, we will help you find the right solution to rebuild your smile.
What are my tooth replacement options?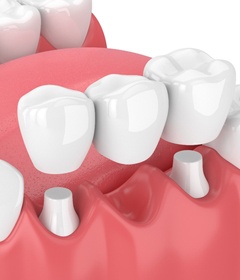 Every tooth is invaluable to your oral health and functions. Your remaining teeth will not have the support they need to stay in place. They will drift toward the open space, increasing your risk of tooth decay, gum disease, and more missing teeth.
As you lose more teeth, it can be impossible to maintain a balanced diet. Over time, this can lead to nutritional deficiencies. Not to mention, you may notice is it more difficult to speak clearly and you no longer look your age. You can stop the complications of tooth loss with a treatment that meets your needs and your lifestyle.
Crown & Bridge
We take an impression of your mouth to create prosthetic teeth to fill the empty space. The bridge is held in place by attaching custom-made dental crowns to your adjacent teeth. This can provide you with a solution that lasts an average of 5 to 10 years before needing to be replaced, but you need to permanently alter healthy teeth.
Implant-Supported Bridge
As an alternative to placing crowns on your adjacent teeth, you can anchor your bridge to your jawbone using an implant post at either end. This allows you to enjoy a treatment that has the potential to last for a lifetime. You will enjoy the next best thing to your real teeth.
Partial Dentures/Implant-Supported Partial Dentures
A partial denture features prosthetic teeth held in a gum-colored base. A metal framework allows it to clip or clasp onto your remaining teeth to hold it in place. If you want a treatment that is more permanent, your partial can be secured with dental implants. You will never need to worry about any slipping or irritation as you regain as much as 70% of your biting force.
How do I determine which implant solution is right for me?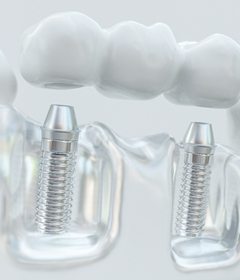 Choosing the right treatment can be difficult. You do not need to make the decision on your own. We perform an extensive consultation to assess your oral health while also taking the time to learn more about your preferences. Based on the results of your examination and considering the results you want we will help you choose the best treatment to restore your smile.
Does replacing multiple teeth impact the cost?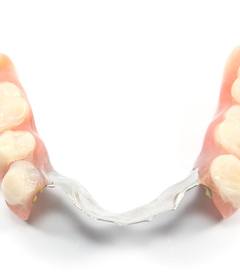 There are various factors that influence the cost of yo
ur treatment, such as the number of teeth you are replacing and the type of prosthetics. We help you maximize the value of your dental insurance policy to reduce the amount you need to pay. We accept a variety of payment options to cover any out-of-pocket balance, including third-party financing with CareCredit.
If you are ready to enjoy a complete smile, contact our office today to schedule your consultation.