Full Mouth Replacement - Freedom, WI
Enjoy the Stability of Dental Implants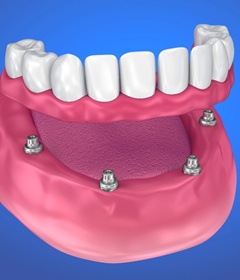 Has your quality of life been devastated by significant tooth loss? At Dental Expressions, we have the most preferred solutions to rebuild your beautiful smile. Full mouth replacement will restore your ability to chew and speak with ease while also revitalizing your confidence. You will enjoy the stability of dental implants to invest in the next best thing to what nature gave you.
What Can I Expect from Full Mouth Replacement?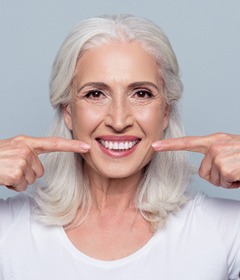 Traditionally, an entire arch of missing teeth is treated using a full denture, which is held to your gum tissue using suction or an adhesive. As an alternative, you can secure your denture to your jawbone using dental implants. You will never need to worry about any slipping or irritation again.
Dental implants allow you to replace the entire structure of your tooth, not just the crowns. Implant posts are precisely placed into your jawbone to mimic tooth roots. As a result, you will enjoy unmatched benefits that are not possible using a traditional denture, such as:
Over a 95% success rate.
Looks and feels natural.
Preserves your jawbone.
Supports your facial structures.
Cost-effective, long-term solution.
Easy maintenance and care.
Implant-Retained Dentures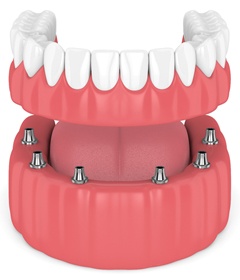 Dental implant posts are strategically placed into your jawbone to hold your denture in place using special abutments. The multi-phased treatment process can take several months to complete, but it is time well spent. An average of 6 to 10 dental implants stimulates your jaw to allow your bone to fuse to them. Your jaw will support your denture to regain as much as 70% of your biting force. You will have a long-term solution that can last for several decades.
All-On-4 Dental Implants
This type of implant-retained denture only uses 4 posts to support the arch. Although fewer posts are used, you still enjoy a variety of benefits. Often, All-On-4 is recommended for those who have lost density in their jaw because the posts are placed in the thickest areas of the bone. This can often eliminate the need for bone grafting without compromising the results you expect. You can also complete your smile in one day. You are fitted for a temporary denture the same day as your placement surgery, so you do not need to go without your teeth while you heal.
Am I a Candidate for Full Mouth Replacement?
If you have suffered significant tooth loss or you have severely damaged teeth, you may be a candidate for full mouth replacement. We perform a comprehensive consultation to assess your oral health and your jawbone. We also take the time to review your medical and lifestyle history. Based on the results of your examination, we create a customized treatment plan to rebuild a beautiful, functional smile.
If you are ready to invest in your quality of life, contact Dental Expressions today to schedule your consultation for dental implants. We look forward to giving you a reason to smile.