November 2, 2018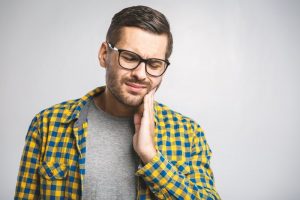 It's National TMJ Awareness Month—an effort to bring awareness to this common disorder that is rarely talked about. Did you know that over 10 million Americans suffer from TMJ disorder? This painful joint disorder that occurs in your jaw can be distracting, affect your sleep, and cause random pain and headaches out of nowhere. It's more common in women than men, but how do you know if you have it? Learn the answer as well as some common causes, symptoms, and whether or not you need TMJ treatment in Kaukauna.
What is TMJ Disorder?
TMJ is short for the temporomandibular joint—where your jaw connects to your skull. It works like a sliding hinge that keeps the movement of your jaw smooth, while avoiding collision with other bones. TMJ disorders can occur if your joint cartilage is inflamed, it erodes, or it becomes misaligned due to injury or overuse.
What Are the Causes of TMJ Disorder?
Here are some of the most common causes of TMJ Disorder:
Injury or stress
Orthodontic treatment
A misaligned bite
Teeth grinding
Arthritis
Degenerative bone defects
What Are the Symptoms?
If you have TMJ disorder, you may feel some of these painful symptoms:
Difficulty opening and closing your mouth
Tenderness or pain in your jaw
Pain in and around your ears
Neck or shoulder pain
Migraines and tension headaches
If you're experiencing any of the signs above, talk to your local dentist about getting the treatment you need. Depending on the severity of your symptoms, you can relieve your pain at home or in the office.
How is This Disorder Treated?
Your dentist in Kaukauna can expertly treat TMJ disorder with TMJ therapy using an NTI-tss splint, which alleviates nighttime teeth grinding. Specifically, it keeps your back teeth apart to prevent grinding and clenching that leads to this disorder. They may also offer tips for stress management because anxiety can contribute to TMJ disorder.
Self-Care
You can also try these easy self-care tips at home to relive your symptoms:
Try not to overwork your jaw by avoiding eating hard or chewy foods.
Lightly exercise each day.
Gently massage your muscles to relieve discomfort.
If you work at a computer all day, periodically take breaks to loosen up your back and neck muscles.
Now that you know what TMJ disorder is, contact your local dentist to get rid of some of those pesky symptoms mentioned above. Additionally, be on the look out for some of those common causes to celebrate National TMJ Awareness Month the right way!
About the Practice
Drs. Robert and Heather Heil are a husband and wife team of dentists who love helping their patients feel better. They offer expert TMJ therapy at their practice because they know it can get in the way of your everyday life. They currently practice at Dental Expressions, where they can be contacted through their website or by phone at (920) 788-6280 for any questions.
Comments Off

on Do You Need TMJ Treatment in Kaukauna?
No Comments
No comments yet.
RSS feed for comments on this post.
Sorry, the comment form is closed at this time.