June 7, 2021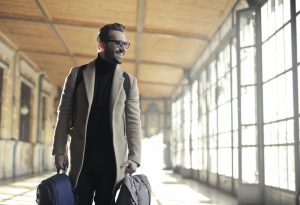 Summer is the perfect opportunity to take your dream vacation or travel to spend time with your family. While you soak up the sun and hang out by the pool, don't let the festivities of the season leave a lasting mark on your smile. Although you'll be away from home, it's still important to commit to your oral hygiene, but maintaining your brushing and flossing routine while you're on the go can be challenging. Here are 4 tips from your dentist in Freedom to make it easier to keep your teeth and gums healthy while you're gone.
1. Pack a Travel Kit
Although your daily schedule may differ a bit for the next few days, you still need to find the time to brush your teeth at least twice a day and floss nightly. Pack a travel kit will all your oral hygiene essentials to make brushing and flossing convenient. Even if you're at the airport, you can still take a few minutes to care for your smile before your connecting flight. If you have any oral appliances, don't forget to pack their cleaning solutions and storage cases.
2. Schedule a Cleaning and Checkup
Nothing is worse than a dental emergency interrupting your travel plans. While you might not feel you're at risk, 1 in 6 Americans has an oral health emergency annually. Many are caused by untreated dental issues, like a cavity that has turned into an infection. A quick trip to your dentist before you leave can significantly lower your risk of an unexpected dental problem. Your dentist will remove any tartar accumulations to ensure your smile looks its best while also checking for any concerns that require treatment, like tooth decay or a fracture.
3. Watch What You Eat
You'll likely need to grab quick snacks while heading to your destination. You'll also be surrounded by many tempting treats and meals, but you'll want to watch what you eat. Limit your consumption of sugary and starchy foods to keep your smile healthy. If you can't ignore your sweet tooth, brush your teeth well after you've finished your snack.
4. Chew on Gum
Sugarless gum can help keep your mouth clean when you can't get to your toothbrush. It encourages saliva production, which will cleanse your teeth of food particles and plaque. It can also relieve ear pressure and calm your nerves if you'll be flying. Choose gum that's sugarless to avoid tooth decay.
Maintain Your Healthy Smile
Following a few summer oral health tips will ensure nothing stands in your way of enjoying your vacation. Spend a few minutes each day focusing on your smile to stay out of the dental chair.
About Dr. Robert Heil
Dr. Heil earned his dental degree at the University of Minnesota School of Dentistry and has completed advanced training in general dentistry. As a member of the American Dental Association and the Academy of General Dentistry, he provides personalized solutions for each patient. If you need a cleaning and checkup, contact our office today for an appointment.
Comments Off

on 4 Tips for a Healthy Smile While Vacationing
No Comments
No comments yet.
RSS feed for comments on this post.
Sorry, the comment form is closed at this time.