December 19, 2022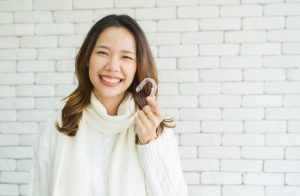 Getting your straighter, dream smile is now easier than ever with Invisalign treatment. Compared to traditional braces, they offer unparalleled comfort and convenience. The clear, discreet aligners are removable, allowing you to still enjoy your favorite foods and easily maintain your oral health over the course of your treatment. However, sometimes people find they get off track from their custom Invisalign plan. If that's you, here are four tips that can help to back on the road toward your dream smile!
#1. Use Invisalign Chewies for a Proper Fit
Your clear aligners are custom-made to seamlessly fit along the contours of your pearly whites and gums. This is to ensure they "track" your teeth–moving your teeth according to your Invisalign plan. However, if there are any gaps between the trays and your teeth, it can result in improper tracking. This can seriously derail your treatment plan if steps aren't immediately taken to correct this issue.
Invisalign chewies are soft, flexible rolls of chewable material than can help place your aligners in the proper position. By simply chewing on them for a few minutes after placing your new trays into your mouth, they will help them fit properly over your teeth and keep your progress on track.
#2. Wear Your Aligners for the Recommended Time
For Invisalign treatment to be successful, it is important to be consistent with the requirements of the plan. As mentioned above, the removable aligners are more convenient than traditional braces due to not having to limit certain foods and cleaning your teeth without metal brackets and wires getting in your way. However, being able to take them about increases the risk of losing them or not sticking to the expected hours of wear easier to get off track with treatment, resulting in delayed results. To be sure your Invisalign treatment stays on track, put your trays safely in a container when eating or drinking something other than water, and be sure to stick with wearing them at 22 hours of the day.
#3. Ask Your Dentist About Back-Tracking
Are your new aligners not fitting properly? It could be because your previous set failed to move your teeth fully into their expected place in preparation for the new trays. If you think that's why your teeth aren't tracking, ask your dentist about "backtracking". This allows you to wear your previous aligners for an additional week or two to ensure your teeth are moving properly into the designated space.
#4. Talk to Your Dentist About Revising Your Treatment Plan
During your Invisalign consultation, your dentist will take records of your teeth to create a personalized treatment plan to achieve your optimal smile. However, if your teeth are not moving quickly enough or are not progressing according to your Invisalign strategy, your dentist can make a revision to the original plan. Depending on the severity, they may provide you with new aligners or use Invisalign attachments to move your teeth into the desired location.
The journey to straighter teeth may not always go according to plan, but there are always ways to get it back on track. By keeping these tips in mind and seeking help from your dentist, your smile can be on the right path as soon as possible!
About the Practice
Dental Expressions is eager to care for your pearly whites through the expertise of their husband-wife duo. With a focus on family-friendly quality care and using the latest dental technology, their goal is to help you get your healthiest and most beautiful smile! They offer customized Invisalign plans with the use of the iTero Element scanner for incredibly accurate digital impressions. To schedule an appointment, contact them through their website or call (920) 788-6280.
Comments Off

on Off-Track with Your Invisalign Treatment? Consider These Tips!
No Comments
No comments yet.
RSS feed for comments on this post.
Sorry, the comment form is closed at this time.