October 27, 2023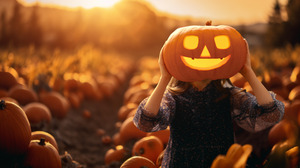 Halloween is a time of spooky fun, creative costumes, and, of course, lots of candy. While indulging in sweet treats is a hallmark of the holiday, it's also important to consider the impact on oral health. Fear not, though! With the right approach, you can enjoy Halloween's sugary delights while keeping your teeth healthy and your smile bright.
1. Moderation is Key:
The first step in maintaining good oral health during Halloween is moderation. It's tempting to dive into a pile of candy, but moderation helps prevent overconsumption of sugar, which can lead to cavities. Encourage your family, especially kids, to choose their favorites and set aside the rest for later. This approach not only controls sugar intake but also makes the treats last longer, prolonging the Halloween fun.
2. Choose Candy Wisely:
Not all candies are created equal when it comes to oral health. Sticky and chewy sweets like caramel and gummy bears cling to teeth and are harder to clean off, increasing the risk of cavities. On the other hand, chocolate, especially dark chocolate, is easier to wash away and may have some health benefits. Opting for less sticky treats can make a big difference in protecting your teeth.
3. Timing and Oral Hygiene:
Eating candy with meals or shortly afterward can be less harmful to your teeth. Saliva production increases during meals, helping rinse away food particles and neutralize harmful acids. Moreover, it's crucial to maintain good oral hygiene practices. Brushing twice a day, flossing daily, and using fluoride toothpaste are fundamental steps. Consider rinsing with mouthwash after indulging in sweets to help remove any lingering particles.
Halloween doesn't have to be a frightful time for oral health. By practicing moderation, making smart candy choices, and sticking to good oral hygiene, you can enjoy the holiday's treats without compromising your dental well-being. Remember, a balanced approach to Halloween candy can keep both your sweet tooth and your smile in great shape!
About Our Practice
At Dental Expressions, located conveniently near Kaukauna, WI, your dental health and comfort are our foremost priorities. Led by the dynamic duo of Drs. Robert and Heather Heil, our practice is a testament to over a decade of dedicated dental expertise. We're not just dentists; we're artists and scientists, continuously evolving to bring you the best in dental care.
If you have any questions about how to protect your teeth this Halloween, we can be reached at our website or by phone at (920) 788-6280.
Comments Off

on Sweet Smiles: Navigating Oral Health During Halloween
No Comments
No comments yet.
RSS feed for comments on this post.
Sorry, the comment form is closed at this time.