April 30, 2021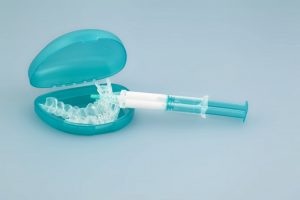 In today's image-conscious world, it should come as no surprise that billions of dollars a year are spent on teeth whitening products worldwide. After all, everyone wants a smile they can be proud of. If you're interested in improving your pearly whites, you've probably searched for a whitening solution. However, you may have felt overwhelmed by all of the choices on the market. Are you better off investing in a take-home kit directly from a dentist? Find out how professional teeth whitening in Freedom stacks up against the over-the-counter products.
Do Store-Bought Teeth Whiteners Really Work?
People often pick up teeth whitening products from their local pharmacy or grocery store because of their convenience factor and low price. However, they also come with a number of limitations, such as:
Generic trays that don't quite fit correctly
Subpar bleaching gel
No supervision from a professional
A higher risk of tooth sensitivity and gum irritation
A longer time before results become noticeable
In addition to not making a significant difference, the results of over-the-counter whiteners often disappear soon after consuming foods or drink that can cause discoloration.
Why Professional Teeth Whitening Is the Better Choice
To begin with, the whitening treatments your dentist uses have all been approved by the American Dental Association (ADA), which cannot be said for all store-bought solutions. Your trays will also be custom-made to fit your unique smile, rather than the one-size-fits-all approach of generic products. This guarantees a safer and more effective application of the bleaching gel, leading to superior results.
Generally, the professional teeth whitening process has three steps:
You'll have a consultation with your dentist to ensure teeth whitening is right for you. The current color of your teeth is recorded for comparison later.
The dentist captures impressions of your teeth to create personalized trays.
You'll be instructed on how to safely apply the gel and trays. Most patients wear them for 30-60 minutes per day for about two weeks.
In contrast to the minimal results delivered by store-bought whiteners, you can expect your smile to become six to eight shades brighter after professional whitening treatment.
Tips for Keeping Your Smile Bright
Once you've transformed your smile, the last thing you want to do is ruin your results. Professional teeth whitening should last much longer than over-the-counter options, but you should still limit staining foods and beverages like coffee, tea, wine, and berries. Sipping these drinks through a straw can minimize their contact with your teeth. Additionally, brush and floss your teeth daily to prevent new stain particles from setting in.
Although professional teeth whitening treatments cost more than the generic alternatives, they're worth every penny – you can't put a price on a confident smile! Call your dentist today to find out how you can make your dream smile a reality!
About the Practice
At Dental Expressions in Freedom, WI, we have a skilled and friendly husband-and-wife dental team ready to help you. Dr. Robert Heil and Dr. Heather Heil both obtained their dental degrees from the University of Minnesota School of Dentistry. Since then, they've been practicing for more than twenty years. They offer professional-grade take-home teeth whitening kits to help you smile more brightly. To learn more about teeth whitening in Freedom, visit our website or call (920) 788-6280.
Comments Off

on Store-Bought vs. Professional Teeth Whitening: Which Is Better?
No Comments
No comments yet.
RSS feed for comments on this post.
Sorry, the comment form is closed at this time.