December 5, 2022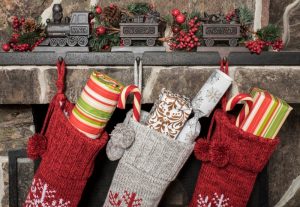 Part of the excitement of the holiday season is giving gifts to your loved ones to show how much you appreciate them. But it can also be challenging to come up with new stocking stuffer ideas year after year. How about trying some unique ones that also benefit your loved ones' oral health? This will not only bring a change from the usual candy and little trinkets but give them something they can use to care for their pearly whites. Here are three stocking stuffer ideas that are sure to bring healthy smiles for the upcoming year!
#1. Creative or Electric Toothbrushes
Many years ago, the only variety in toothbrushes was the colors. Nowadays, brushing your teeth is a lot more exciting for both children and adults. There are endless options for kids, such as ones decorated with their favorite animated character or ones that play music! An engaging toothbrush can encourage little ones to brush regularly. Electric toothbrushes are an excellent choice, even for adults–not only are they fun, but they have been proven to be more effective at keeping fighting cavities. It's a great gift idea, especially for those who aren't willing to spend a bit more money on an electric toothbrush themselves.
#2. Flavorful Dental Products
There are so many ways to engage children in their oral health. No longer do they have to withstand the regular minty flavors of dental products. As tasty replacements, you can give them fun-flavored floss, mouthwash, and toothpaste to help them stick to their daily dental routine. They offer a broad range of flavors like bubblegum and grape to make caring for their teeth more enjoyable. Be mindful to buy items that are fluoridated and have an ADA Seal of Approval. If you have a child under the age of two, you can ask your dentist for toothpaste recommendations that are safe for their teeth and gums.
#3. Smile-Friendly Snacks
The holidays are full of sugar and sweets. While these can be enjoyed in moderation, there are some great tooth-friendly alternatives you can place in stockings. You can toss in healthy snacks such as more expensive nuts like macadamia, gourmet pretzels, or sugar-free gum.
How to Maintain a Healthy Smile Year-Round
Keeping you and your family's oral health in check requires more than just fun gifts! Nothing replaces a consistent dental routine throughout the whole year. Making it a priority to brush at least twice a day for two minutes minimum is essential to healthy teeth! Flossing is another vital routine—it removes unseen particles that can gather and lead to plaque and bacteria. Cleaning thoroughly between your teeth ensures you are reaching those hard-to-reach places that a toothbrush is unable to.
With these unique stocking stuffer ideas, you are sure to bring healthy and happy smiles to your loved ones for the upcoming year!
About the Practice
Dental Expressions is eager to help keep you and your family's smile healthy and bright all year long through the expertise of their husband-wife duo. They offer a wide range of services, including preventive, restorative, cosmetic, and emergency care. With a focus on family-friendly quality care and using the latest dental technology, their goal is to help you achieve optimal oral health. To schedule an appointment, contact them through their website or call (920) 788-6280.
Comments Off

on 3 Stocking Stuffer Ideas for the Gift of a Healthy Smile!
No Comments
No comments yet.
RSS feed for comments on this post.
Sorry, the comment form is closed at this time.