December 10, 2020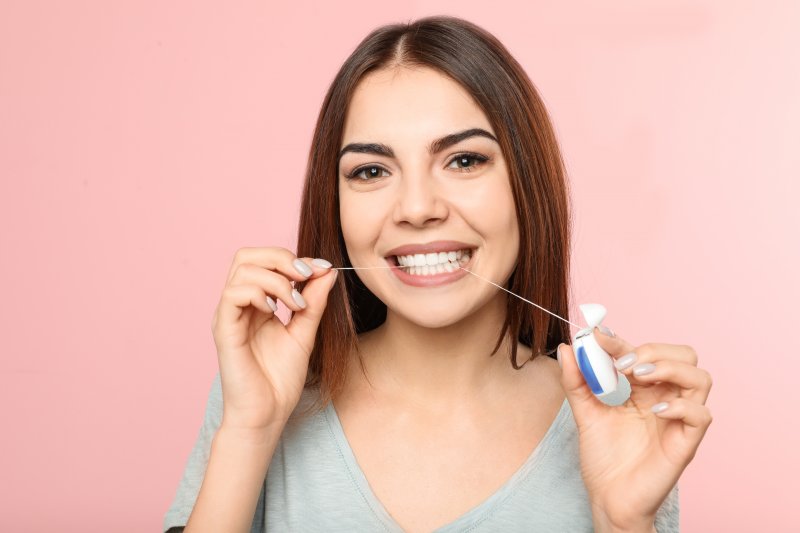 Are you one of the millions of Americans starting 2021 with a few goals on your "to-do" list? Whether it's loading up your plate with more veggies, committing to reading a new book every month, or being kinder to yourself, it's a good idea to add some smile-friendly goals to your new year's resolutions. After all, implementing better dental hygiene best practices not only can keep your teeth looking bright and beautiful, but it can also improve your oral and general health. With this in mind, read on for a few ideas from a dentist in Freedom!
#1. Commit to Flossing
Did you know a whopping 37% of people don't floss daily? Plus, an additional 32% shared they don't floss at all. If you fall into either of these statistics, then there is no time like the present to turn over a new leaf. After all, brushing alone only cleans about 60% of your teeth's surface. To effectively clean along the gum line and between your teeth, you need to reach for your floss pick or water flosser before wrapping up your oral hygiene routine.
#2. Make Healthier Food and Beverage Choices
In the cool winter months, nothing is quite as comforting as a piping hot mug of peppermint mocha or a warm cinnamon roll. However, treats like these are packed with sugar, which wreaks havoc on your teeth. To avoid decay and cavities, opt for healthier options, like fresh fruit, raisins, and dark chocolate. It may not be as enjoyable as the alternative, but your smile will thank you for it.
#3. Schedule Your Dental Checkup and Teeth Cleaning
Brushing and flossing are the foundation of your dental care regimen, but you still need to attend your dental checkups and cleanings with your dentist to keep your teeth and gums in pristine condition. If you let one (or both) of your biannual visits go by last year, make sure the same doesn't happen in 2021. Use this post as a reminder to schedule your next visit before you forget.
#4. Kick the Habit
From smoking tobacco products and using your teeth as tools to biting your nails, there are a number of poor dental habits that can wreak havoc on your oral health. Fortunately, you can prevent the poor behavior in question from requiring an emergency visit to your dentist by putting a plan in place to quit now. When you feel tempted to revert to your old ways, just remember the thousands of dollars you are saving on restorative and cosmetic dental care!
When the clock strikes midnight, a fresh, new year will begin. Make it the year of a healthy smile by implementing the above goals!
About the Practice
At Dental Expressions, you'll find a highly experienced team, the latest in proven dental technology, a comprehensive array of services, and a patient-driven approach to care. Both Dr. Bob and Heather Heil have helped countless patients achieve beautiful, healthy smiles in their 10+ years in practice, and they would love to help you meet your smile-related goals in 2021. To get your oral health in tip-top shape this year, visit their website or give them a call at 920-788-6280 to schedule an appointment!
Comments Off

on New Year, New You: 4 New Year's Resolutions for a Healthier Smile
No Comments
No comments yet.
RSS feed for comments on this post.
Sorry, the comment form is closed at this time.