January 5, 2023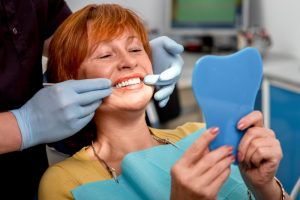 Dental implants are considered the gold standard of tooth-replacement options. They are a strong, long-lasting, and natural solution to rebuilding your smile. By using biocompatible titanium steel posts, they replace your pearly whites from root to crown and easily integrate into your jawbone. However, dental implants are the most expensive restoration so it can be tempting to go for discounts or bargain offers. But to enjoy all the benefits of your dental implants, it's essential to invest in high-quality ones offered by a reputable dentist. If not, here are four possible risks that could occur!
1. Integration Failure
The durability and stability of your dental implants depend on them integrating over time with your jawbone. This process is called osseointegration and it "roots" your new teeth into your mouth, giving them the support and stability they need. However, dental implants that are made of cheaper materials won't integrate with your bone as well. Additionally, the practitioner may not have adequate skills to place your restoration properly. This can result in unstable dental implants that may need to be replaced or removed in the years to come.
2. Nerve Damage
One of the main issues with investing in discount or bargain dental implants is that they're commonly not placed by experts who have been properly trained in the procedure. As a result, complications are much more likely to occur, like nerve damage. Misplaced implants can cause the nerves of your mouth to not fully function. An experienced and licensed dentist will have the knowledge and experience to complete the implant procedure in a way that minimizes the risk of nerve damage. If you choose a more "affordable" restoration, a less experienced practitioner may not take the proper precautions.
3. Implant Breakage or Fracture
As with many things in life, quality matters. If a dental implant is available for a significantly cheaper price, it is more than likely composed of cheap materials. Consequently, compared to a properly made implant, there is a greater risk of your restoration breaking or fracturing. To get a replacement, your jawbone will have to be strong enough to support a new abutment screw. If not, the worst-case scenario is that your implant would have to be removed entirely. Either way, both scenarios will impact your oral health and your bank account!
4. Hyperplasia
If your dental implants don't fit properly, you may experience swelling and excess tissue around the implant site in your mouth. This condition is called hyperplasia and it causes a lot of irritation. While normally harmless, surgery is the only way to treat it. While your goal may have been to save a few dollars with bargain dental implants, you will have to end up spending them on treating your dental issue. This unnecessary expense could have been prevented by getting quality dental implants.
Investing into your smile with dental implants is so beneficial, not just for the confidence boost but to keep your oral health in its best condition. By forgoing a cheaper version and choosing a high-quality restoration, you will avoid any unnecessary risks and your new pearly whites are sure to last for many years to come!
About the Author
Dental Expressions is eager to complete your smile through the expertise of their husband-wife duo. They offer a wide range of services, including restorative treatments like dental implants. With a focus on high-quality care and using the latest dental technology, their goal is to help you achieve optimal oral health. To schedule an appointment, contact them through their website or call (920) 788-6280.
Comments Off

on The Risks of Getting Bargain Dental Implants
No Comments
No comments yet.
RSS feed for comments on this post.
Sorry, the comment form is closed at this time.