September 29, 2022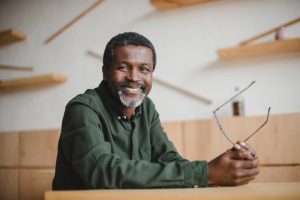 When you're a child, loose teeth are a rite of passage. Once you've reached adulthood, though, your pearly whites are supposed to stay firmly in place. Unfortunately, that isn't always the case. If you've noticed your teeth shifting out of their original positions and getting crooked, you might be wondering whether there's anything you can do about it. The answer depends on why your teeth have shifted, which could occur for any number of reasons. Here are five of the most common reasons why your teeth might shift and how your dentist may be able to help!
Common Causes of Shifting Teeth
It's impossible to know for sure why your teeth are changing their positions until you've visited your dentist. However, some of the most likely causes include:
1. Natural Aging
As a person gets older, their muscles and ligaments weaken. When this happens in the jawbone, the teeth become not as firmly set in their positions. So, the teeth can be more easily pushed out of the proper alignment.
2. Tooth Loss
Teeth naturally press against each other. When one tooth is lost, the teeth on either side of it gradually drift in an attempt to fill in the gap. This movement throws off the overall balance of the bite.
3. Changes in Bone Density
Multiple health conditions, such as osteoporosis, can impact a person's bone density, which includes the jawbone. If this occurs, the connective tissues holding the teeth in place can start to weaken, prompting the teeth to move.
4. Gum Disease
Without treatment, gum disease can permanently destroy gum tissue and even the underlying jawbone. As mentioned above, this can loosen the foundations of the teeth within the jawbone and alter their positions.
5. Teeth Grinding
Up to 10% of the population suffers from unconscious teeth grinding and jaw clenching, also called bruxism. Many people aren't even aware that they have this condition, which can exert pressure on the teeth that not only damages enamel, but may also worsen their alignment.
How Your Dentist Can Fix Shifted Teeth
Just because your teeth have shifted doesn't necessarily mean they always have to remain that way. Don't be afraid to ask your dentist about their options for correcting shifted teeth, which may include:
Invisalign – For severely crooked teeth, Invisalign presents a convenient alternative to braces. It straightens your teeth using thin plastic trays that are smooth and see-through, so they're practically unnoticeable as you wear them.
Veneers – If your shifted teeth are more of a cosmetic concern, your dentist may be able to place veneers over the teeth in question. Veneers are thin ceramic shells that conceal the front surfaces of the teeth, instantly making them look flawless.
Regardless of the reason why your teeth have shifted, you'll want to visit your dentist to prevent the issue from getting worse. Not to mention, you'll have an easier time eating and smiling with confidence!
About the Practice
Dental Expressions is led by the husband-and-wife dental team of Drs. Bob and Heather Heil, who each have 20+ years of experience in the field of dentistry. At their practice, they deliver top-quality, relationship-based dental care to patients of all ages in the Freedom, WI area. They're proud to offer Invisalign, veneers, and other cosmetic dentistry services for patients who would like to fix their shifting teeth and achieve their dream smiles. You can learn more today by contacting their dental office at (920) 788-6280.
Comments Off

on 5 Possible Reasons Why Your Teeth Are Shifting
No Comments
No comments yet.
RSS feed for comments on this post.
Sorry, the comment form is closed at this time.