September 4, 2018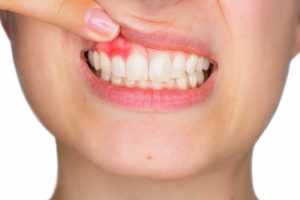 Did you know September is National Gum Care Month? This time of year brings awareness to something that's super important to your oral and overall health: your gums. Over half of Americans suffer from mild, moderate or severe periodontal (gum) disease and many people don't even know there's something wrong with their gums. Keep reading to learn how to keep your gums healthy, the signs of gum disease, and whether you need periodontal disease therapy in Kaukauna.
What is Gum Disease?
Gum disease is an infection of your gum tissue that holds your teeth in place. Its early stages are reversible but if left untreated, it can lead to bone and tooth loss. Plaque buildup that turns into tartar forms at the gumline and causes your gum tissue to separate from your teeth.
A lot of people may not know they have gum disease and catching it early is key to your oral health. Look for some of the signs of gum disease below:
Irritation along your gumline
Bleeding or sensitive gums
Persistent bad breath
Painful chewing
Sensitive teeth
Receding gums
If you notice any of these symptoms, talk to your dentist in Kaukauna as soon as possible to treat the issue before it becomes more severe.
How is Gum Disease Treated?
The most common way gum disease is treated is called scaling and root planing. Your dentist will clean along and below your gumline and smooth out your tooth's root, allowing your gum tissue to reattach more easily and preventing bacteria from finding places to hide in the future. Your dentist may also recommend taking antibiotics to help eliminate bacteria that is contributing to the disease.
How Can I Keep My Gums Healthy and Prevent Disease?
Brushing and flossing: Brush your teeth twice a day, for two minutes each session to clean out plaque before it can form into tartar. Also, floss once a day to clean plaque and debris from in between your teeth.
Regular dental visits: See your dentist for regular checkups and cleanings. They will take a look at your gums to make sure they're healthy and clean your mouth in places that your normal brushing and flossing won't reach.
Quit smoking: If you smoke or use tobacco products, quitting could be a real difference maker in your gum health. Smoking weakens your immune system making it harder to fight off infection, plus it makes it more difficult for your gums to heal once they're damaged.
Gum disease in Kaukauna can lead to much more serious health issues like tooth loss and a higher risk of stroke and heart disease. It progresses slowly, so catching it while it's a small issue is best. Thanks to National Gum Care Month, you now know the signs of gum disease and how to keep your gums healthy, so you can keep your smile beautiful!
About the Practice
Dr. Bob Heil and Dr. Heather Heil enjoy getting to know their patients to provide them the best care possible. Since gum disease is so common, they offer periodontal therapy in their office to treat the disease. They currently practice at Dental Expressions where they can be contacted through their website or by phone at (920) 788-6280 for any questions.
Comments Off

on Do You Need Periodontal Disease Therapy in Kaukauna?
No Comments
No comments yet.
RSS feed for comments on this post.
Sorry, the comment form is closed at this time.