July 5, 2018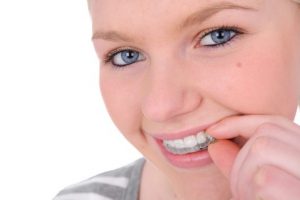 Are you ready to finally invest in your oral health and your confidence with Invisalign in Kaukauna? That is great! Although you are excited to get started with the clear aligners, you question whether you need them for both the top or bottom teeth? Although they can only be used for one, it is best to align both arches. If you do not align both, it could lead to bite complications. Instead, it is best to give your smile a makeover at the same time.

Choose the Clear Choice
Invisalign has quickly become the preferred choice among teens and adults who need orthodontics because the aligners are nearly invisible. Using a clear BPA-free plastic, no one will be able to tell that you are wearing them because brackets and wires are not used to move your teeth.
Instead, a series of aligners are created using impressions of your mouth. You will then wear each one in the series for at least 22 hours per day. Depending on the recommendations of your cosmetic dentist in Kaukauna, you will switch to the next aligner in the series every one or two weeks.
On average, it will take 8 to 18 months to finish your series. The length of your treatment will depend on how many aligners are needed. After you have finished your series, you will briefly require a retainer to prevent your teeth from moving back into their previous positions.
Enjoy a Convenient Solution
In addition to a nearly invisible treatment, you will also enjoy added conveniences that are not possible with traditional braces. Since the aligners are removable, there are no dietary restrictions; however, you should not eat or drink anything except water while wearing them. Before placing them back into your mouth, rinse them with water and brush your teeth.
This also makes it easy to maintain your oral hygiene because there are no brackets or wires to clean around. Simply brush and floss as you normally do while taking a few extra minutes each day to clean your aligners with a soft-bristled toothbrush and clear antibacterial soap.
While on your journey to a straight smile, you will spend less time visiting your dentist in Kaukauna. You will not need appointments for adjustments because no wires are used; however, you will still need to check in every few weeks to monitor the movement of your teeth.
Get a Straight Smile Today!
If you are ready for a straight smile, Invisalign is the solution for you. It can be used to treat an array of bite and alignment issues. Contact your dentist today to see if you are a candidate for the clear aligners.
About Dr. Robert Heil
Dr. Robert Heil is the trusted choice for complete dental care in the community. In addition to general dentistry, he has completed additional training in many aspects of specialty care, including sedation and orthodontics. He provides his patients with the most advanced solutions to promote the health and appearance of their teeth. To see if you are a candidate for Invisalign, contact our office today to schedule your consultation.
Comments Off

on Can I Use Invisalign in Kaukauna on the Top or Bottom Teeth?
No Comments
No comments yet.
RSS feed for comments on this post.
Sorry, the comment form is closed at this time.