October 14, 2019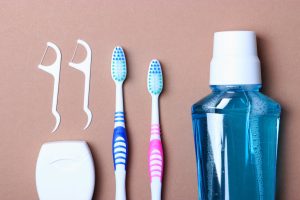 October is widely known as the month when Halloween takes place. It is also Adopt a Shelter Dog Month, Breast Cancer Awareness Month, and Global Diversity Awareness Month. But did you know that it is also National Dental Hygiene Month? That makes it the perfect time for you to pause to think about how well you are doing at caring for your smile. Let's discuss why oral hygiene is so important, and then we'll discuss some tips to help you maintain a clean, healthy mouth.
The Importance of Oral Hygiene
Oral hygiene is about so much more than fresh breath. Keeping your mouth clean has some major benefits.
It prevents bacterial buildup that leads to cavities and the need for extensive dental treatment.
It prevents gum disease. Gum disease has been associated with a number of major health problems, including heart attacks and stroke. It is also one of the leading causes of tooth loss.
It fights staining on the teeth and therefore contributes to a more attractive smile.
It protects the enamel and reduces the risk of dental sensitivity.
7 Keys to Good Oral Hygiene
Here are some of the main ways in which you can maintain a clean and healthy mouth:
Brush twice a day. Be sure to brush the backs of your teeth, the area along the gum line, and your tongue. You should spend about 30 seconds brushing each quadrant of your mouth.
Floss daily. Brushing only cleans about 60 percent of the surfaces of your teeth. Flossing cleans out the tight spaces between the teeth that your toothbrush can't reach.
Sip lots of water. Water helps to rinse away sugar, food particles, and bacteria. It also promotes saliva production, and saliva is one of your mouth's main defenses against tooth decay.
Avoid tobacco. Cigarettes and chewing tobacco can negatively affect saliva flow and contribute to plaque and tartar buildup.
Eat a healthful diet. Sugary foods promote plaque formation. Conversely, crunchy fruits and veggies like apples and celery help to clean the mouth by encouraging saliva flow. Their rough texture can also play a role in removing plaque from teeth.
Use a mouth rinse. A high-quality mouthwash can clear away bacteria and help to prevent plaque and tartar formation.
Ask for personalized advice. The hygienists at your dentist's office are a treasure trove of information. They can give you tips on brushing and flossing technique and recommend specific products for at-home care.
Is your smile as clean and healthy as it should be? If you know there is room for improvement in your oral hygiene routine, now is the ideal time to make any necessary changes.
About the Authors
Drs. Bob and Heather Heil are the husband and wife team of dentists who provide top-tier preventive, restorative, and cosmetic services at Dental Expressions. They both enjoy educating patients and forming long-lasting relationships with them. If you would like their help to improve your oral health, contact our office at 920-788-6280.
Comments Off

on The Why and How of Excellent Dental Hygiene
No Comments
No comments yet.
RSS feed for comments on this post.
Sorry, the comment form is closed at this time.