April 18, 2020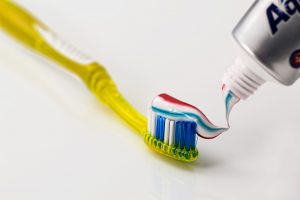 Due to the recent widespread outbreak of COVID-19, your local dental practice is very likely only treating patients with dental emergencies. This means that regular checkups and cleanings are effectively postponed until further notice. If you're normally diligent about keeping up with your oral health by attending these appointments, you might be worried that you'll suddenly get cavities or gum disease. Not to worry; your dentist has written this guide on how to keep your mouth healthy until they're open for cleanings again.
Brush and Floss Every Day
Because you won't be able to get your pearly whites professionally cleaned for some time, you're going to have to be diligent about keeping them clean at home. Brush twice a day with a fluoridated toothpaste to reap the most benefits. Use an ultra-soft toothbrush to avoid irritating your gum tissue. Also, remember to floss at least once a day, ideally right before bed. This will prevent bacteria from building up in between your teeth during the night and causing not only a serious case of morning breath, but also tooth decay or gum disease.
Drink Enough Water
These days, most tap water is fortified with fluoride, a mineral that occurs in most natural water sources. It strengthens the enamel of your teeth, making you less vulnerable to cavities. Bottled water normally doesn't contain fluoride, so you should drink tap water instead to reap all the possible oral health benefits. Aim for at least four glasses a day to keep your mouth and body hydrated.
Eat a Mouth-Healthy Diet
A quarantine is the perfect time to evaluate your health habits, including your diet. In order to get all the vitamins and minerals that your teeth and gums need to thrive, eat a varied diet with as much fresh produce as you can get. Granted, they can be hard to come by these days, but try to stock up when you make a trek to the grocery store. Similarly, limit the amount of sugary and starchy foods you eat to the best of your ability. These items become fuel for destructive bacteria in your mouth that cause cavities.
Get Plenty of Sleep
Understandably, you might be worried about the coronavirus, especially if you're an essential worker. As a result, you might have trouble attaining eight hours of sleep each night. However, not achieving adequate amounts of sleep can impair your immune system, making you more susceptible to infections like gum disease, as well as the coronavirus. Try engaging in relaxing activities before bed, like meditation, journaling, or yoga.
This pandemic is nothing like any of us have ever lived through before. However, just because these times are unprecedented is no excuse to let your oral health fall by the wayside. Keep these tips in mind to keep your mouth healthy until your local dental practice reopens.
About the Author
Dr. Bob Heil is a dentist in Freedom, WI who earned his doctorate from the University of Minnesota School of Dentistry. He maintains active memberships in many professional organizations, including the American Dental Association, the Academy of General Dentistry, the American Academy of Dental Sleep Medicine, and the Wisconsin Dental Association. Although his dental practice is currently closed for cleanings, he is still treating dental emergencies. If you suspect you may have one, don't be afraid to pick up the phone and call (920) 788-6280.
Comments Off

on How to Keep Your Mouth Healthy Until Your Local Dental Practice Reopens
No Comments
No comments yet.
RSS feed for comments on this post.
Sorry, the comment form is closed at this time.