September 15, 2020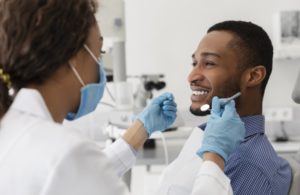 Whenever you see your dentist for a checkup, they're usually the one asking most of the questions. But do you ever flip the script and ask your dentist any questions about your smile? After all, there is a lot you can learn at these visits, and it's always a good idea to take full advantage of the time you spend in the office. Here are five questions that your dentist in Freedom is hoping you'll ask during your next appointment.
1. How Can I Make My Mouth Healthier?
Attending regular checkups and cleanings is crucial in keeping your smile healthy, but that's only half the battle. Your at-home oral hygiene routine is also important. Don't be afraid to ask the dentist what you could do better. Are you flossing often enough? Are you missing any spots when brushing? Are you using the right kind of toothbrush? Your dentist is there to help.
2. Should I Change My Diet?
Some foods and beverages, such as those with high amounts of sugar, can cause cavities. Others, such as leafy greens and dairy products, strengthen your teeth. Your dentist can tell you which foods are beneficial for your oral health and which to consume in moderation.
3. How Can I Improve My Smile?
In addition to ensuring your teeth are healthy, dentists want you to be confident about your smile. Most dentists offer a variety of cosmetic treatments designed to correct issues like chips, cracks, or stains and make you proud to show off those pearly whites.
4. Am I at Risk for Future Dental Problems?
You might be prone to certain oral health problems based on genetics or lifestyle habits. Ask your dentist whether you're at risk and if there is anything you can do to reduce your risk, such as quitting smoking, lowering your alcohol intake, or following better oral hygiene practices.
5. What Are My Financial Options?
No one wants to be surprised by a huge dental bill at the end of their visit. Ask a member of your dentist's team about their financing options. Check to see whether they'll accept your dental insurance. If you're uninsured, find out whether they provide some kind of loan system such as CareCredit.
The next time you see your dentist in Freedom, it never hurts to ask one or more of these questions. You just might learn something that can give you a healthier, more confident smile!
About the Practice
At Dental Expressions, Drs. Bob and Heather Heil are a husband-and-wife team who both earned their dental degrees from the University of Minnesota School of Dentistry in Minneapolis. They have been providing high-quality dental care to the Freedom, WI community for more than 20 years. For more information on how you can improve your oral health, you can contact their office at (920) 788-6280.
Comments Off

on 5 Important Questions to Ask Your Dentist at Your Next Checkup
No Comments
No comments yet.
RSS feed for comments on this post.
Sorry, the comment form is closed at this time.