March 15, 2020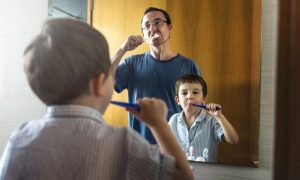 COVID-19 has shown to be an extremely infectious disease. If you want to reduce your risk of getting sick, it's just as important to work towards having a strong immune system as it is to practice social distancing and hygienic practices. However, many people don't realize that part of maintaining good overall hygiene and building a strong immune system means keeping up with oral care habits along the way. To learn how oral and overall health are connected and why it matters for your immune system, keep reading!
Understanding Oral Bacteria
There are many types of bacteria living in the mouth, both good and bad for your oral health. When too much harmful bacteria is present and not enough good bacteria, it can lead to an abundance of plaque acids that damage teeth and gum tissue. When you practice regular oral care, such as brushing and flossing, you remove bacteria and plaque before it has a chance to irritate some of the most vulnerable oral structures.
For example, when bacteria produces plaque acids, it can cause the gums to become infected and inflamed. After enough time, the barrier separating the oral bacteria from the bloodstream breaks down, allowing bacteria to travel to other areas of the body with relative ease.
Poor Oral Health Can Cause Inflammation
Gum disease is technically an infection of the gums and causes inflammation. When this occurs, the body kicks into overdrive in order to repair itself from the ongoing infection inside the gum tissue. No matter where it occurs in the body, inflammation is never a good thing. Not only has it been tied to a higher risk of heart disease and stroke, but it also makes your immune system work harder than it's supposed to.
As bacteria enters the bloodstream, C-reactive proteins, or CRP, are released from the liver. When CRP is produced, it's because there's inflammation in the body. Occasional release of CRP is fine, but sustained released of this protein can make the immune system work harder overall. This can make things more complicated during pandemics.
Gum Disease and the Immune System
If the immune system is largely preoccupied by responding to infections or inflammation already present within the body, it's going to make fighting viral infections like COVID-19 even more difficult. In a way, having to constantly fight other infections compromises the immune system if a patient were to become infected by COVID-19.
In the end, the best thing you can do to keep yourself protected is to take oral hygiene as seriously as you do your overall health. If you need help addressing problems with your oral health, especially gum disease, it's crucial that you contact a dentist today!
About Dental Expressions
Whether you're dealing with an oral infection inside of a tooth or a gum infection throughout your mouth, Dr. Heil and Dr. Heather are trained to get your oral health back to normal. Their preventive and restorative treatments are performed with your comfort in mind, so you can rest knowing that your oral and overall health are in good hands. To schedule an appointment, you can contact them through their website.
Comments Off

on How Strong Oral Care Enhances Your Immune System Against COVID-19
No Comments
No comments yet.
RSS feed for comments on this post.
Sorry, the comment form is closed at this time.