March 22, 2021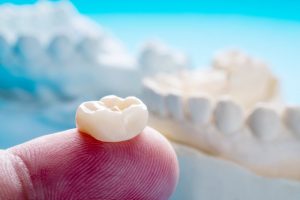 Did you know that tooth enamel is the hardest material in the human body, even harder than bones? Despite this, there are still plenty of ways you may find yourself with a weakened or broken tooth. Thankfully, dental crowns are strong, protective caps that can restore the strength, function, and beauty of these teeth! But how does the durability of these reliable restorations compare to that of natural pearly whites? There are a variety of factors that determine the lifespan of a dental crown and several things you can do to extend it. Read on to learn more and how to make your dental crown last for many years to come!
What Influences the Lifespan of a Dental Crown?
Thanks to high-tech dental technology and high-quality materials, dental crowns are better, stronger, and more lifelike than ever before. On average, a dental crown will need to be replaced every 15 years, but this depends heavily on factors like:
Placement in the mouth: Teeth at the back of your mouth are used for grinding food while front teeth are primarily used for tearing, which means they are subjected to more pressure on a daily basis. As such, a dental crown in the back of your smile will wear down faster than one in the front.
Material: Crowns can be crafted from metal, porcelain fused to metal, or all ceramic. All these materials are reliably resilient, but metal crowns will typically last the longest.
Maintenance: Practicing great oral hygiene and breaking bad chewing habits will play a large part in how long your dental crown stays strong and secure in your smile.
How to Extend the Lifespan of Your Dental Crown
While dental crowns have an average lifespan of about 15 years, yours could potentially last much longer with the proper care. To make the most of your dental crown, be sure to practice healthy habits and take a few simple precautions, such as:
Regular brushing and flossing: Oral health issues like cavities or gum disease can cause your crown to lose its grip on your tooth, so make sure to diligently practice great oral hygiene.
Limit hard and sticky foods: Dental crowns are strong, but don't overindulge in hard or sticky foods, as these could damage or dislodge them.
Break bad chewing habits: Chewing on hard objects (like ice, pens, or your fingernails) and using your teeth to open packages can chip or crack your dental crown.
Address untreated bruxism: If you grind or clench your teeth in your sleep (a condition called bruxism), talk to your dentist about a nightguard to protect your crown from excess pressure.
Visit your dentist twice a year: Every six months you should visit your dentist for a checkup and cleaning to monitor the integrity of your crown and stop any problems as early as possible.
Dental crowns are a long-lasting and reliable way to keep your natural teeth healthy and intact after damage or decay. With the right care, you can easily count on your dental crown to last you for many years to come!
About the Practice
Since 1999, Dental Expressions has been pleased to provide personalized, caring, and thorough dental care to the smiles of Freedom and the surrounding communities. Drs. Robert and Heather Heil are a husband-and-wife team with over 20 years of experience each. With the latest dental technology and a focus on patient comfort, they're proud to make dental care a pleasant experience for smiles of all ages. If you have more questions about your dental crown, don't hesitate to contact them via their website or at (920) 788-6280.
Comments Off

on How Long Does a Dental Crown Last?
No Comments
No comments yet.
RSS feed for comments on this post.
Sorry, the comment form is closed at this time.