March 22, 2017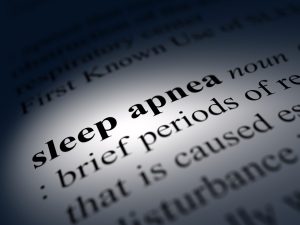 For weeks now, you've been exhausted throughout the day. You're getting crankier as time goes by without the refreshing sleep you need. You're tired of getting up throughout the night to use the bathroom, and you're annoyed by headaches that hit you as soon as you wake up. What could be wrong? From listening to these signs, it sounds like you might need sleep apnea treatment in Freedom, WI. In this post, learn about this serious condition and find out what your dentist can do about it from the team at Dental Expressions.
What Is Sleep Apnea?
This disorder is the second most common sleep issue behind insomnia. Most patients deal with obstructive sleep apnea – in this condition, the airway becomes blocked while you rest. As you sleep, your tongue and jaw relax, and then slide back against your throat, preventing you from breathing properly.
Since your brain is smart enough to know that you aren't getting enough oxygen, it will wake you up, but only enough to cause you to resume breathing correctly – not enough to make you realize you're awake. These "micro-arousals" can happen hundreds of times a night, leaving you exhausted in the morning, but without knowing why.
What Are The Symptoms Of Sleep Apnea?
This condition has many signs and symptoms – some are so common that people often overlook them. Review the list below, assess your risk factors, and take this sleep apnea quiz to see if you may be suffering from this sleep disorder.
Daytime sleepiness and fatigue
Dry mouth or sore throat when waking up
Morning headaches
Waking up gasping for breath or with the feeling of choking
Sweating while sleeping
Waking up to urinate
Morning asthma symptoms or attacks during the night
Trouble concentrating, forgetfulness, irritability, depression
Sexual dysfunction
Periods of not breathing during sleep (often noticed by a partner)
Snoring – *although, you can still have sleep apnea if you don't snore*
How Risky Is Untreated Sleep Apnea?
Since many patients can't tolerate a CPAP machine, they often discontinue treatment they need and put their lives at risk. Dr. Bob Heil and Dr. Heather Heil warn against this, because untreated sleep apnea can lead to:
High Blood Pressure
Stroke
Heart Attack
Sudden Death
Depression
Car Accidents
Shortened Lifespan
What Are The Dental Treatment Options For Sleep Apnea?
If CPAP isn't for you, we can treat your sleep apnea in Freedom, WI with Custom Oral Appliance Therapy (COAT). You'll wear a 100% custom device that looks similar to a nightguard. COAT will gently shift your tongue and lower jaw out of the way to keep your airway open when you sleep. This dental sleep apnea treatment is less expensive, much more comfortable, and extremely effective – oral appliances work for about 80% of patients.
Now that you know what sleep apnea is, and how dental treatment can help, schedule your appointment with Dental Expressions today – we'll help you sleep like a baby again!
Comments Off

on How Do I Know if I Have Sleep Apnea? Learn More About Sleep Apnea Treatment in Freedom, WI
No Comments
No comments yet.
RSS feed for comments on this post.
Sorry, the comment form is closed at this time.