November 14, 2020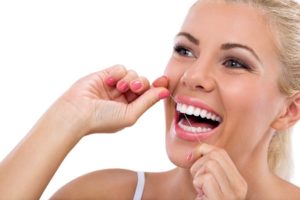 Your teeth can last for a lifetime with the right care over the years. Your first line of defense against common dental issues begins at home with your oral hygiene routine. In addition to brushing twice a day, your dentist in Freedom also recommends flossing every night before going to bed. Although you might believe your technique is effective, your smile might be at risk of complications, like gum disease. Here are 5 of the most common mistakes people make when flossing.
1. You're not flossing enough.
Many people only floss their teeth if they get something caught in them; however, if you're not doing it every night, you're leaving as much as 40% of your teeth uncleaned. Flossing is the only way to reach in between your teeth to clean them. It's best to floss your teeth every night to remove harmful buildup. If you aren't flossing before bed, you're allowing bacteria to build between your teeth, increasing your risk of gum disease, bad breath, and other issues.
2. You're not flossing at the right time of day.
Research shows it's more beneficial to floss your teeth at night because your saliva production decreases while you're sleeping. As a result, food left on your teeth will be more likely to breakdown and feed harmful bacteria, causing gum inflammation. Flossing before bed removes bacteria and food particles to prevent irritating your gums.
3. You're flossing after brushing.
Believe it or not, it makes a difference whether you floss before or after you brush your teeth. According to a small study, people who flossed first had less plaque between their teeth than those who brushed before flossing. Flossing first allows your brushing efforts to be more effective because the fluoride in your toothpaste will better coat your teeth because floss dislodges plaque that can cover the surface of a tooth.
4. Not using the correct floss.
Not all floss is the same. It's best to take the time to find the right one for your personal needs. If you have tight spaces in your mouth, consider using a thinner material; however, if you have gaps between your teeth, a thicker floss will be more effective. There are many types of floss available, so it's best to choose one that meets your specific needs, like waxed, unwaxed, or flavored.
5. Not supported by the American Dental Association.
Your dentist will recommend you choose a dental floss that has earned the American Dental Association's Seal of Acceptance. This is a voluntary process that tests the floss for safety and effectiveness to ensure the product you're using won't harm your smile.
Invest in Your Gum Health
At least 50% of Americans having gum disease, but you don't need to be part of that group! Commit to flossing every night before going to bed to keep your gums healthy. If you develop any concerning symptoms between your routine visits, like bleeding gums, don't hesitate to contact your dentist.
About Dr. Robert (Bob) Heil
Dr. Heil earned his dental degree at the University of Minnesota School of Dentistry in Minneapolis. He is a member of various organizations, like the American Dental Association and the Academy of General Dentistry. He strives the help patients achieve healthy smiles at home and in our office. If you have any questions about your oral hygiene routine, contact our office today for an appointment.
Comments Off

on 5 Surprising Ways You're Flossing Wrong
No Comments
No comments yet.
RSS feed for comments on this post.
Sorry, the comment form is closed at this time.