March 9, 2023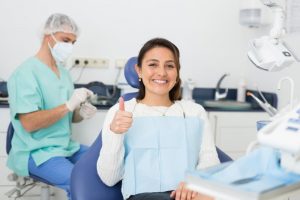 As you know, a beautiful and healthy smile just doesn't happen. As with your overall health, it takes effort to keep your teeth and gums in top condition. In addition to your daily dental routine of brushing and flossing, visiting your dentist every six months for your checkup and cleaning is essential to your oral health. Not only does do these appointments keep your pearly whites gleaming, but they also protect your mouth from any serious issues developing. Read on to learn five reasons why preventive care is important to your oral health.
#1: You'll Save Money in the Long Run
Who doesn't love to save money? By going visiting your dentist consistently, you will do this in the long run. One of the main purposes of preventive dental visits is to protect you from future health problems. If an oral issue goes untreated, it can become more costly in the long run than if you had simply visited your dentist for your biannual appointment.
#2: Your Oral Health Will Be Tracked
While consistently caring for your teeth and gums with daily brushing and flossing will keep them in great condition, it's important to allow your dentist to keep track of their health. When they see you every six months, they can build upon your personal care. They can reach the areas of your mouth that are more difficult for you, as well as check for signs of developing issues.
#3: You Can Prevent Serious Oral and Physical Health Issues
If your dentist does notice any areas of concern, they can provide the necessary treatment to stop it in its tracks. This is essential because your oral health doesn't just affect your teeth and gums. When you neglect your mouth, you increase your chances of life-threatening conditions, such as heart attacks and strokes. Many of these diseases, like oral cancer, are treatable with early detection.
#4: You Will Get Updated on the Best Dental Hygiene Products
It can be overwhelming to see the overabundance of dental products that are advertised as being great for your teeth. It can leave you wondering which ones are the best for your smile. Instead of spending time, energy, and money figuring out which ones offer better results, your dentist can give you customized advice on the products that are best for your needs.
#5: You'll Feel More Confident
While dental visits keep your pearly whites healthy, they also give you an attractive, bright smile! By regularly seeing your dentist for an exam and cleaning, you can get both benefits. Oral health issues like bad breath, discolored teeth, or a crooked smile can make you feel self-conscious and lead to lower self-esteem. With preventive care, your grin will remain strong while also boosting your self-confidence!
By tending to your oral health and making your biannual dental visits a priority, you are preventing future issues and ensuring a long-lasting, complete smile for years to come!
About the Practice
Dental Expressions keep the smiles of Freedom whole, healthy, and beautiful through the expertise of their husband-wife duo. They offer a wide range of services, including preventive care with dental cleanings, children's dentistry, periodontal therapy, and much more. With a focus on family-friendly quality dentistry and using the latest dental technology, their goal is to keep your smile in top condition. To schedule an appointment, contact them through their website or call (920) 788-6280.
Comments Off

on 5 Reasons You Don't Want to Miss Your Dental Checkups!
No Comments
No comments yet.
RSS feed for comments on this post.
Sorry, the comment form is closed at this time.