May 26, 2018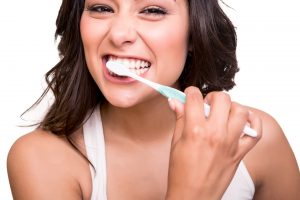 Visiting your dentist in Kaukauna for preventive care is one of the best avenues you have for protecting your oral health. It provides you with a complete cleaning and thorough examination that rid your mouth of harmful bacteria and allow your dentist to monitor the condition of your oral cavity. But what should happen when you're not there?  How can you maintain your oral health between visits? As you continue reading, you'll learn 4 tips for maintaining healthy teeth and gums.
4 Tips for Healthy Teeth and Gums
We've discussed how beneficial it is to visit your dentist semi-annually, but what can you do between appointments to ensure that you maintain your results? The following will answer that question for you:
Toothbrushing – Brushing your teeth correctly and frequently enough is very important to your oral health. The bristles on the toothbrush agitate the leftover food particles and bacteria that can cause havoc for your teeth and gums. To get the best results, you should brush for two minutes per session at least two times a day.
Flossing – Is brushing enough? Some people may think so, but the reality is that it can only address up to 60 percent of your teeth. To clean the remaining 40 percent, which includes the tight spaces between your teeth, you'll need to floss.
Mouthwash – A great supplement to add into your regimen is rinsing with a mouthwash. It will ensure that your mouth stays moist and that excess food particles are washed away after you eat.
Eating Healthier – A final way to enhance your oral health is by making healthier food choices. Eating items like vegetables and fruits with naturally occurring sugars is a much better choice than consuming snack foods. That's because whole foods have properties in them that can actually contribute to better oral health, as they raise the pH level in your mouth to make it less acidic.
The Power of Being Proactive
When you take steps to improve your oral health and visit your dentist every six months for total care, you are taking proactive steps toward excellent oral health. Furthermore, these appointments are a great time to ask your hygienist about any questions that you may have.
Why Now is the Time
Dental maladies can sometimes develop for years before you notice them. So even though you may not have any recognizable symptoms yet, it's still important to visit your dentist as soon as possible for preventive care. You'll leave with the full confidence of knowing that your mouth, teeth and gums are healthy.
About the Author
A graduate of the University of Minnesota School of Dentistry in Minneapolis, Dr. Robert Heil has been practicing dentistry for nearly two decades. He takes pride in helping each patient achieve the absolute best dental health possible, while remaining affiliated with several professional organizations. Dr. Heil practices at Dental Expressions and can be reached for more information through his website.
Comments Off

on 4 Tips for Keeping Your Mouth Clean from Your Dentist in Kaukauna
No Comments
No comments yet.
RSS feed for comments on this post.
Sorry, the comment form is closed at this time.