February 9, 2018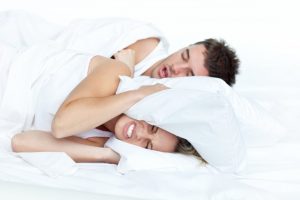 One of the most important functions for good health is to get adequate sleep each night. When you can't, your body is thrust into a state of constant fatigue and you lack energy to carry out your daily duties. You've learned that this type of problem – of partially waking throughout the night – is called sleep apnea, and you're wondering how it can be treated. You ponder, "Does it require a surgical procedure to fix?" Continue reading to learn what information your dentist in Kaukauna has on the matter and how to get the rest you desperately need.
What is Sleep Apnea?
As described above, sleep apnea is a condition that causes you to partially awaken throughout the night, which deprives you of a full cycle of rest. It is caused by restricted airflow which disrupts your breathing constantly throughout the night.
There are three main types, which include:
Obstructed Sleep Apnea (OSA) – The most common form of the condition, OSA is caused by a partial or complete blockage of your airway during sleep.
Central Sleep Apnea (CSA) – CSA occurs from a breakdown of communication between the brain and the muscles that control breath.
Mixed Sleep Apnea (MSA) – This condition is a combination of the two.
Is Surgery Required for Sleep Apnea?
Any type of surgical procedure to correct sleep apnea in Kaukauna is the absolute last resort that your dentist will consider. This is because the problem can usually be addressed using one of two methods:
The Continuous Positive Airway Pressure (CPAP) Machine – This machine consists of a mask and tube that pushes air into the oral cavity to keep your airway open during sleep.
Removable Oral Appliance – For some people, the CPAP machine doesn't offer the relief they need, so another option available is a removable oral appliance. It's smaller, easy to transport and provides a quiet and comfortable form of treatment.
Another reason that your dentist considers surgery as a last option, is that it has not yet been proven to offer any more benefit than the above listed forms of treatment.
Other Ways to Encourage Better Rest
Here are some methods to incorporate into your lifestyle to ensure that you get the rest you need:
Meditation – Meditating before lying down to sleep each night will help to settle your mind and body, preparing you for the rest cycle.
Read a Book – Another way to unwind is to read a book before going to bed. It can become a routine that your body registers as an indicator that it's time to slow down for its sleep period.
Shut-Off Electronic Devices – Electronic devices act as constant stimuli and can deprive you of one of the most important components for a great night's sleep – darkness. Shut the electronics down so that your body can shut off.
To put a masterful game plan together to combat restless nights, just reach out to your local dentist to learn more about sleep apnea treatment in Kaukauna.
About the Author
Dr. Robert Heil earned his dental degree from the University of Minnesota School of Dentistry. A member of the American Academy of Dental Sleep Medicine and an affiliate of Arise Healthcare for the treatment of snoring and obstructive sleep apnea, Dr. Heil practices at Dental Expressions and can be reached for more information through his website.
Comments Off

on Surgery for Sleep Apnea? Your Dentist in Kaukauna Weighs in
No Comments
No comments yet.
RSS feed for comments on this post.
Sorry, the comment form is closed at this time.