April 7, 2021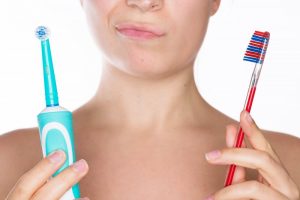 You've always heard that in order to keep your smile healthy, you should brush your teeth at least twice a day. Clearing away leftover food debris, plaque, and bacteria is essential in preventing stains, bad breath, cavities, gum disease, and more. But does it matter which type of toothbrush you use? Some people believe that electric toothbrushes are better than manual ones. Is there any truth to this idea? Read on as a dentist in Freedom discusses the pros and cons of each option.
Manual Toothbrushes
The classic type of toothbrush is easier for many people to use. Some of its unique benefits include:
Affordability – In most places, manual toothbrushes rarely cost more than three dollars.
Convenience – In addition to getting one at every dental checkup, you can find manual toothbrushes at just about every grocery store, pharmacy, or gas station.
Greater control – Manual toothbrushes are ideal for people with sensitive teeth or gums, as it grants you more control over the speed and pressure at which you brush.
That said, manual toothbrushes come with a few drawbacks, such as:
Excessive pressure – Compared to electric brushes, people are more likely to apply too much force with manual brushes. This may lead to worn-down tooth enamel and gum irritation.
No built-in timer – Unlike some electric brushes, manual brushes do not let you know when you've brushed for the recommended two minutes.
Electric Toothbrushes
Many people swear by electric toothbrushes for these reasons:
Thorough clean – Oscillating bristles are more effective at removing plaque and preventing gingivitis.
Ease of use – Electric brushes do most of the work for you, making it easier for people with mobility conditions like carpal tunnel and arthritis.
Less waste – Usually, you can throw away just the head of an electric brush instead of the whole thing, creating less waste.
However, electric toothbrushes are not without their downsides, like:
Higher price – Electric brushes, and their replacement heads, cost more than manual ones.
Difficulty when traveling – Because electric toothbrushes are larger, they're harder to pack.
So, Which One Is Right for You?
Both electric and manual toothbrushes can be effective ways of keeping your smile clean and healthy. When it comes down to it, though, the best toothbrush for you will be the one you'll actually use. As long as you brush twice daily for two minutes at a time, any type of toothbrush is fine!
About the Practice
At Dental Expressions, we have a highly experienced husband-and-wife team of dentists in Freedom, WI. You'll find a comprehensive array of dental services, the latest in dental technology, and a patient-driven approach to care. Both Dr. Bob and Heather Heil have helped countless patients achieve beautiful, healthy smiles in their 20+ years in practice. If you'd like our dentists to help you settle the great toothbrush debate, you can contact our office via our website or by calling 920-788-6280.
Comments Off

on Are Electric Toothbrushes Better Than Manual Ones?
No Comments
No comments yet.
RSS feed for comments on this post.
Sorry, the comment form is closed at this time.