November 7, 2022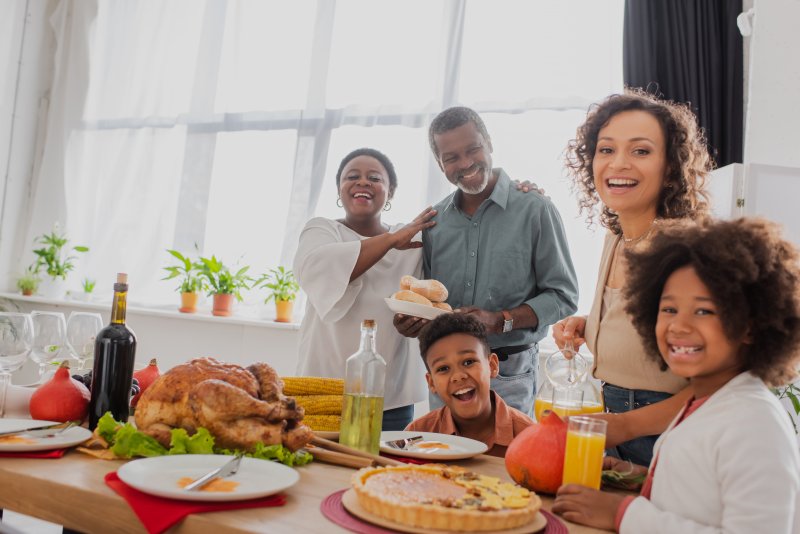 Whether you're looking forward to eating your favorite meals or spending quality time with your family, there are plenty of reasons to be excited about Thanksgiving. Although you may have a list of things to be thankful for, your pearly whites should be close to the top. The holiday season just wouldn't be the same without them, especially when it comes to enjoying delicious treats and communicating with loved ones. Read on to learn five ways you can give thanks to your oral health this Thanksgiving from your dentist in Freedom!
#1: Be Careful with Hard, Chewy, & Sticky Foods
You might enjoy tasty snacks like caramel popcorn, chestnuts, and candied pecans, but many of these treats can easily harm your teeth. One wrong bite and you can end up having to schedule an emergency dental visit instead of spending the holiday with family and friends. For this reason, you'll want to be cautious when eating foods that are particularly hard, sticky, and chewy.
#2: Fill Your Plate with Vegetables
Do you typically fill your Thanksgiving plate with turkey, cranberry, and bread rolls? While these foods are delicious, you'll also want to make sure you get plenty of veggies. By filling your plate with options like green beans, Brussels sprouts, or broccoli salad, you can enjoy a vitamin-rich meal that's packed with essential nutrients to help keep your teeth healthy and strong!
#3: Drink Lots of Water
Sipping on a glass of red wine or downing a fizzy soda with your dinner is one of the highlights of the holiday season. That said, you may want to stick to drinking water throughout the day. This will keep you hydrated as well as help wash away food particles and bacteria from your mouth.
#4: Remember to Maintain Good Oral Hygiene
While it's tempting to simply jump in bed and sleep after a long day of holiday fun, this can have long-term consequences for your smile. Leaving your teeth uncleaned can allow harmful germs to grow overnight, increasing the risk of oral complications later on. Be sure to brush, floss, and rinse with mouthwash regularly, especially before going to sleep.
#5: Visit Your Dentist for Checkups & Cleanings
Brushing and flossing are only half of the process for preserving a healthy smile. If you haven't already, you should consider scheduling your next dental checkup and cleaning with your dentist. By visiting them every six months, they'll be able to detect and address developing issues like cavities and gum disease early on. They'll also remove plaque and tartar while thoroughly polishing your teeth before sending you on your way.
Since your pearly whites are essential for enjoying the holiday season, now is the perfect time to give thanks. Keep these tips in mind, and you'll be sure to maintain good oral health this Thanksgiving and beyond!
About the Author
Dr. Robert Heil earned his dental doctorate from the University of Minnesota School of Dentistry in Minneapolis. He's also a proud member of numerous organizations like the American Dental Association and the Academy of General Dentistry. He offers a wide range of high-quality services, including dental checkups/cleanings, periodontal therapy, and fillings. If you'd like to schedule an appointment, visit his website or call 920-788-6280.
Comments Off

on 5 Ways to Care for Your Smile This Thanksgiving
No Comments
No comments yet.
RSS feed for comments on this post.
Sorry, the comment form is closed at this time.