June 3, 2020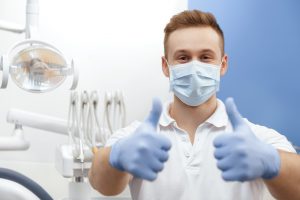 You've been making a lot of changes in your life to keep yourself and others safe from COVID-19. During these times of uncertainty, it pays to be cautious by taking precautions like limiting your public outings, social distancing, and wearing a face covering. When it comes to keeping the community safe, your dental office has a roll to play too. Your dentist in Freedom shares some ways that they are protecting their patients during the COVID-19 pandemic.
What Personal Protective Equipment is My Dentist Using?
Surgical masks: Wearing face coverings is recommended by the Centers for Disease Control and Prevention (CDC) to prevent unknowingly spreading the coronavirus that causes COVID-19 to others. Face coverings are especially important for people working in healthcare. Your dental team always wears face masks during your appointment. Now, your dentist, hygienist, and assistants will be wearing N95 and ASTM level 3 masks, double-masking at all times.
Gloves: As always, your dental team will wear gloves when they are working with their patients. Before each appointment, your dentist thoroughly washes his hands and puts on a clean pair of disposable gloves. This protective barrier helps to prevent potential spread to others. After he is finished treating a patient, the gloves are properly disposed of and he washes his hands again.
Face Shields: Even though your dentist is already equipped with masks, that is not enough. He will also be wearing a face shield to provide another barrier between him and his patients for extra protection.
How Else Will My Dentist Keep Me Safe?
Here are just a few of the many steps that your dental office is taking to keep themselves and their patients safe:
Daily Team Health Checks
Every day, when your dental team comes into the office, they will be asked a set of questions regarding their current health. This will be followed by a no-touch temperature check to ensure that the staff are able, willing, and ready to provide safe dental care.
Pre-Screening of Every Patient
When each patient comes into the office, they will have to complete a quick health questionnaire regarding their current health. They will also be required to undergo a no-touch temperature check.
Sequence Patient Scheduling
All appointments will be spread further apart than usual. This will give the dental staff more time to thoroughly clean between patients. It will also help prevent unnecessary contact between patients.
Virtual Waiting Room
Usually when you arrive to the office, you check in at the front desk. Now you can check in from your car. Simply call your dental staff to let them know that you're there. You will be alerted when they are ready for you. This way, you can bypass the entire waiting area and go directly to your treatment room.
Social Distancing
Your dental office is enforcing social distancing guidelines. Chairs have been taken away from the reception area, there are helpful signs, and there is one-way traffic in the treatment area. These steps make it easier for patients to practice social distancing.
Clear Barriers
Hard plastic guards have been placed strategically throughout the office. They help to block the movement of airborne pathogens. These surfaces are disinfected regularly.
Just because we're living through a pandemic doesn't mean you should be neglecting your oral health. Because of the many steps your dental team is taking, you can go to your appointment with peace of mind.
About the Author
Dr. Robert Heil is a general dentist located in Freedom, WI. He graduated from the University of Minnesota School of Dentistry in Minneapolis and performed his general practice residency at Hennepin County Medical Center. He has gained over two decades of experience and is a member of the American Dental Association, the Academy of General Dentistry, the Wisconsin Dental Association, and many other organizations. His practice is taking 19 additional steps to protect patients from COVID-19. For more information or to schedule an appointment, visit his website or call (920) 788-6280.
Comments Off

on In What Ways Are Dentists Protecting Their Patients and Themselves
No Comments
No comments yet.
RSS feed for comments on this post.
Sorry, the comment form is closed at this time.