September 9, 2021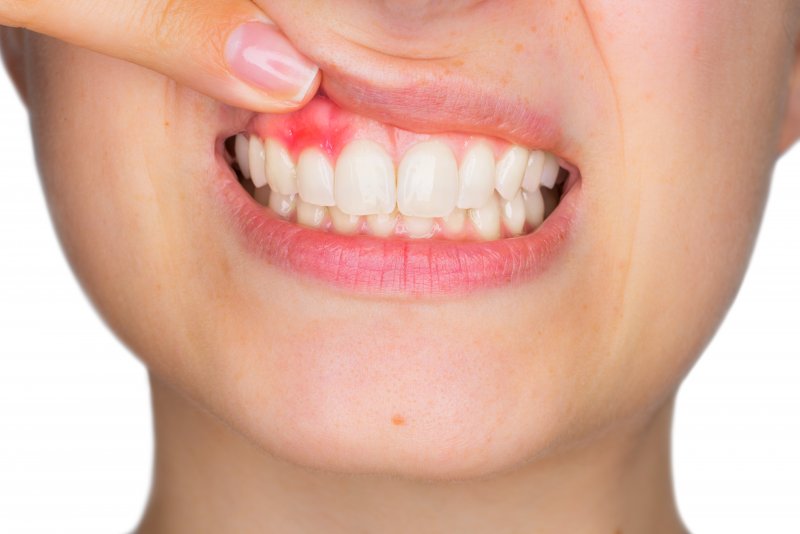 Most people hear the words "gingivitis" and "periodontitis" and know they're unpleasant – even without knowing what each one means. Although they're both stages of gum disease, there's actually a significant difference between the two diseases. Are you interested in learning more? Read on as your dentist in Freedom explains how gingivitis and periodontitis differ.
Stages of Gum Disease
As mentioned earlier, gingivitis and periodontitis are two stages of gum disease. The biggest difference between them is that gingivitis is reversible, while periodontitis is not. Let's take a closer look at each one.
Gingivitis
Gingivitis is a chronic state of gum inflammation that can progress into a more severe form of gum disease like periodontitis. It happens when plaque accumulates in the areas between the teeth, resulting in inflamed gums. Symptoms of gingivitis often include swollen, tender, visibly red, and bleeding gums. The good news is you can reverse the condition by practicing good oral hygiene, regularly seeing your dentist, and rinsing with an antiseptic mouthwash. Some common factors that increase your risk of gingivitis are smoking, using tobacco products, poor oral hygiene, hormone changes, an unhealthy diet, and chronic diseases like diabetes, HIV, or cancer.
Periodontitis
If gingivitis is left untreated, it can turn into periodontitis. When periodontitis develops, the inner layer of the gum and bone pull away from the teeth, forming large pockets where debris and bacteria can accumulate. If plaque spreads and grows below the gum line, it can lead to tooth and bone loss. This stage of gum disease can lead to poor tooth alignment, gum recession, and clear pockets between the teeth and gums. Symptoms of periodontitis include pain when chewing, receding gums, and red, swollen, or bleeding gums.
What's the Difference?
Now you know what gingivitis and periodontitis are – but how can you tell which one you have? Here's how you can distinguish between the two:
Age – Although it's rare for adolescents to have periodontitis, they can still develop gingivitis. If your teen has signs of unhealthy gums, they're likely in the early stages of gum disease.
Pain – Do you experience pain and discomfort while chewing? It could be a sign that your gum disease has progressed from gingivitis to periodontitis.
Tooth Condition – When you have gingivitis, your gums are irritated, but your teeth should still be firmly in place. If you have one or more teeth that are loose, then it's likely you have periodontitis.
Breath – With gum disease, most patients experience bad breath. However, the odor gets fouler if it has progressed from gingivitis to periodontitis. The unpleasant smell occurs because of the presence of excess bacteria in your mouth.
Now that you know more about the two stages of gum disease, you can watch out for signs and symptoms. If caught early enough, you can prevent gingivitis from turning into periodontitis.
About the Practice
At Dental Expressions, we offer truly comprehensive, individually-tailored, high-quality dental services that are guaranteed to leave you smiling after every appointment. Our team goes above and beyond to give you the exceptional dental care you deserve. We enjoy educating our patients to help them make confident and informed decisions about their oral health. If you'd like to learn more about gum disease, visit our website or call (920) 788-6280.
Comments Off

on Gingivitis and Periodontitis: What's the Difference?
No Comments
No comments yet.
RSS feed for comments on this post.
Sorry, the comment form is closed at this time.