June 30, 2018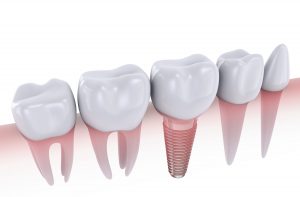 From dessert (chocolate or vanilla?) to vacation (beach or mountains?), life is always better with options — and that is true when it comes to your smile, too. If you are missing one, two, or three teeth, you will be presented with the choice between a dental bridge or dental implants in Kaukauna. Now, the hard part is deciding. Fortunately, it just comes down to having all the information. Keep reading to find out what you need to know about these two types of restorative dentistry!
What Is a Dental Bridge?
A dental bridge is a way to replace missing teeth using the healthy teeth that surround the gap as anchors. The bridge works exactly like that — with two sturdy crowns placed on each anchor tooth, the prosthetics (a.k.a. "pontics" ) form a bridge over the space, filling it in with natural-looking pearly whites.
This tooth replacement is non-invasive and results in a fixed restoration that can only be removed by your dentist. Most dental bridges are made out of porcelain fused-to-metal, for a result that blends well with the appearance of the teeth that surround it.
Some of the benefits of a dental bridge include:
Restores your ability to eat, speak, and smile with ease

A dental bridge is aesthetically pleasing

The surrounding teeth stay right where they should

Dental bridges are an affordable option in restorative dentistry
What Are Dental Implants?
Dental implants are a comprehensive tooth replacement option that rebuilds the tooth from the root, up. Unlike with a dental bridge, implants provide the replacement teeth with a sturdy foundation that has been implanted beneath the gum line. Dental implants are surgically placed and will heal over the course of four to six months. In all, the process for dental implants may take up to a year. You can be fitted for a temporary tooth replacement to wear during this time if you wish.
Dental implants can replace any number of missing teeth. The crown that restores the implant can be made from porcelain/ceramic, gold, or metal alloys.
Some of the benefits of dental implants include:
Implants stabilize the jaw bone to promote better oral health

Dental implants look and feel more natural than non-implant retained options

Cleaning dental implants is the same as cleaning the teeth you were born with

Implants can last for a lifetime with proper care and maintenance
Which One Is Best for You?
Your restorative dentist in Kaukauna can help you to determine which method of tooth replacement is best for you during a consultation. If your tooth loss is recent and you are in good oral and overall health, the answer may be dental implants. No matter what the preferred method is, replacing missing teeth is a wonderful investment in your oral and overall health!
Meet the Practice
Drs. Heather and Robert Heil offer comprehensive dental care from the comfort of their state-of-the-art Dental Expressions office. Both remain up-to-date on the latest advances in restorative and general dentistry through their commitment to continuing education. To learn more about dental bridges or dental implants or to schedule an appointment, you are invited to contact their office at 920-788-6280.
Comments Off

on Choosing between a Dental Bridge vs. Dental Implants in Kaukauna
No Comments
No comments yet.
RSS feed for comments on this post.
Sorry, the comment form is closed at this time.