September 15, 2021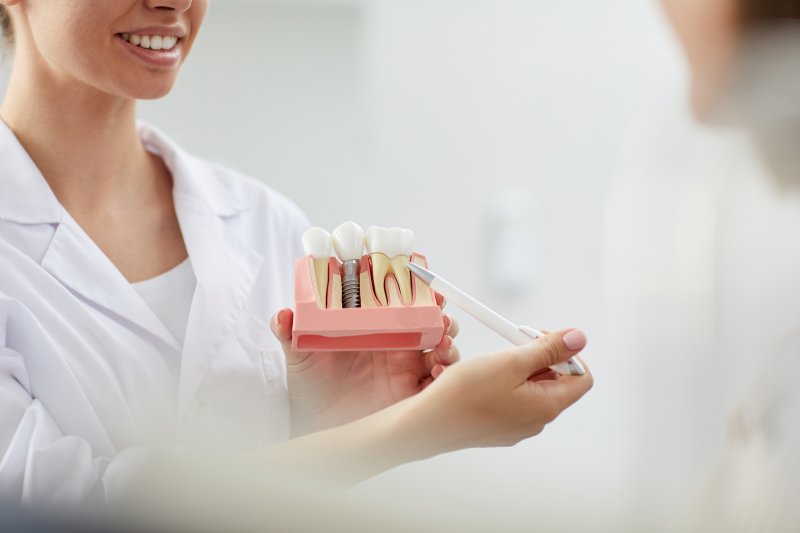 Are you tired of hiding your smile because you have missing teeth? Dental implants are an excellent solution to consider. It's one of the most permanent methods of tooth replacement, helping patients eat, talk, and smile with complete confidence once again. To make sure you're a good candidate for treatment, you'll have a dental implant consultation with your dentist. At this initial visit, they may throw around some confusing words. Thankfully, we've compiled a list of dental implant terms you should know so you can understand exactly what's going on.
Dental Implant
A dental implant, also known as a fixture, is a device that's surgically inserted into the jawbone. It acts as a new tooth root or foundational pillar and supports a bridge, crown, or denture. An implant fuses with the bone through a process called osseointegration, providing utmost stability and long-lasting results that most patients enjoy for a lifetime.
Abutment
An abutment is the middle piece connector that dentists build into or attach to the top of a dental implant. It serves as an anchor for a crown, bridge, denture, or other prosthesis and keeps it firmly in place as a natural tooth does for traditional restorations.
Abutment Teeth
This refers to the teeth that support a partial denture or bridge. The bridge is attached during crown prep or inlay/onlay prep. For a partial denture, clasps or rests are used to support the denture on the abutment tooth.
Crown
A crown (or cap) replaces the top portion and layer of a tooth. If you have broken or lost a tooth because of injury, infection, or decay, your dentist will fit you with a crown to replace the damaged or missing tooth. It's custom-made to encase an entire single tooth, fortifying and replacing the missing structure. A crown can also be attached to the abutment of a dental implant.
Dentures
Dentures are the most traditional option for missing teeth. However, most patients don't have the same success with dentures as with dental implants. Some dentures can be removed daily for cleaning and storage purposes, while others are permanently attached to the mouth (i.e., implant-supported dentures).
Osseointegration
Osseointegration is the natural process that allows a dental implant to fuse with your existing bone. The term comes from Greek and Latin words meaning "bone" and "to make whole".
Titanium
Today, most dental implants are made of titanium. It's a widely used metal because very few people are allergic to it, it's lightweight but strong, and it can ossify with the bone.
Zirconia
Zirconia is a fortified ceramic often used for the small percentage of patients that are allergic to titanium. Since zirconia implants have no prosthetic connections, the risk of bacteria growth is much lower. Additionally, patients may find that they have better gum health with this type of implant.
Are you ready to start your journey towards a fully restored smile? Now that you know a few dental implant terms, you'll better understand what's going on at your dental implant consultation!
About the Practice
At Dental Expressions, we make sure every visit is as comfortable, relaxing, and fulfilling as possible. Our team uses the latest technologies, materials, and techniques to give you a smile you'll proudly show off. If you're tired of hiding your missing teeth, we can restore your smile and confidence with dental implants. Visit our website or call (920) 788-6280 to schedule a consultation.
Comments Off

on Dental Implants: Key Terms You Should Know
No Comments
No comments yet.
RSS feed for comments on this post.
Sorry, the comment form is closed at this time.