May 19, 2023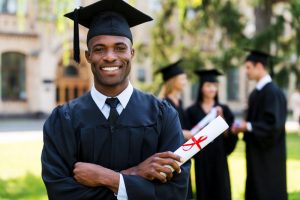 Graduating college is an exciting time. It's time to bid farewell to long nights working on papers and say hello to the workforce! If you have a special graduate in your life, you want to do all you can to help them be successful in their new adventure. One of the most unique (and useful!) gifts you can give is a cosmetic dental treatment. Read on to learn why it's the perfect gift for graduation and some ideal treatments.
Why Give the Gift of Cosmetic Dentistry to Graduates?
A beautiful smile does more for you than just make you feel good; it gives other a great impression of you! Studies have shown that your teeth are usually the first thing people notice about you when they meet you. Bright, healthy pearly whites convey vibrancy and vitality. They also help reveal a strong sense of self-confidence. When you feel good about your appearance, you are more likely to engage, speak freely, and laugh easily. You don't have to cover up any dental imperfections, so you are more able to communicate with security.
All these qualities are essential when it comes to starting a new career. During interviews, your graduate will make a positive first impression with a renewed smile, which could lead the company to think they would be a perfect fit. A great smile is important when it comes to careers that require interaction with others on a regular basis. Teachers, lawyers, salespersons, restaurant employees, repairmen, and newscasters are just a few examples where a radiant smile helps to ensure success. However, even if the chosen career path involves mostly desk work, a graduate will still benefit from enhanced teeth. Being approachable and open always helps in any aspect of the work industry.
What Kinds of Cosmetic Dental Treatments Are Best for Graduates?
Modern cosmetic dentistry offers a full range of treatments to drastically improve the appearance of teeth. However, there are a few that may particularly help a graduate in the next stage of life. These include:
Veneers: Veneers cover a range of dental imperfections including chipped, cracked, crooked, and stained teeth. Ultra-thin shells of porcelain are placed over the front surfaces of the flawed teeth, revealing a bright, aligned smile. They are incredibly versatile and can be done in as little as two dental visits.
Cosmetic Bonding: If there are just one or two minor issues with a smile, cosmetic bonding can be a quick, convenient way to make minor improvements. By molding a tooth-colored composite resin over the teeth and hardening it with a UV light, a new smile can be quickly and easily sculpted into existence!
Professional Teeth Whitening: A whiter smile can make an instant difference in how one appears. Professional whitening treatment can brighten dull or stained teeth up to eight shades in a short amount of time. For convenience, there are in-office and at-home treatments so your graduate could choose what works best for them.
About the Author
Dental Expressions keeps the smiles of Freedom healthy and beautiful through the expertise of their husband-wife duo. With a belief that everyone deserves a thriving and confident grin, they use their precise and personalized dental skills to help you achieve your oral health goals. They offer a wide range of services, including cosmetic treatments such as veneers, dental bonding, and teeth whitening. To schedule an appointment, contact them through their website or call (920) 788-6280.
Comments Off

on Give the Gift of a Renewed Smile for the College Graduate in Your Life
No Comments
No comments yet.
RSS feed for comments on this post.
Sorry, the comment form is closed at this time.