December 11, 2017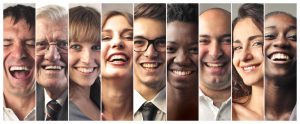 The word 'smile' comes from the Latin word 'mirus,' meaning wonderful, remarkable. And that is exactly what smiling does for you mentally and physically, leaving you feeling remarkably wonderful. And the people around you experience the same effect. But, when you don't feel comfortable about your teeth, it naturally creates a sort of internal restraint, where you're always aware of your shortcoming. Your cosmetic dentist in Kaukauna says you shouldn't have to live like that. Read on to learn how you can regain your confidence.
What is Cosmetic Dentistry?
Cosmetic dentistry is the branch of oral care that focuses primarily on aesthetics. And because the services that fall into this category aren't considered medically necessary, they usually won't be covered by insurance. That doesn't negate their importance, though.
Studies show that when you look better, it has positive effects on how your think. And when you think positively, you internally shower your body with life-enriching hormones such as endorphins and growth hormone that have anti-aging qualities. Surely you don't mind sipping on a little nectar from the fountain of youth, right?
Different Types of Cosmetic Dentistry
There are many different services that fall under the banner of cosmetic dentistry, including:
Invisalign – Invisalign clear aligners offer a discreet way to adjust your teeth in far less time than traditional braces.
Teeth Whitening – Professional-strength teeth whitening can remove most of the deep staining that your teeth naturally acquire over time.
Porcelain Veneers – For really stubborn stains that can't be removed with teeth whitening, veneers offer a solution. They are made of thin strips of porcelain that are bonded to your teeth. They can also address gaps, slight misalignments and crooked teeth, leaving you with a perfect smile.
Tooth-Colored Fillings – This is an alternative to traditional metal fillings, which can leave dark spots on your teeth. Tooth-colored fillings seal your teeth and blend in with the colors of the others.
Cosmetic Bonding – Cosmetic bonding is a way of repairing and shaping teeth with mild fractures, cracks or gaps. Your dentist will apply tooth-colored resin to the affected teeth and shape them to match your other others, all in one visit.
Functionality
Sometimes overlooked is the fact that many cosmetic dental procedures have functional benefits. Teeth that are aligned properly and bonded can chew better, are easier to clean and can help you speak clearly.
You deserve to function well, feel good about yourself and flourish in life. Give yourself the gift of confidence and reach out to your dentist in Kaukauna to start the process of rediscovering yourself.
About the Author
Dr. Robert Heil received his undergraduate degree from Saint Olaf College and went on to study at the University of Minnesota School of Dentistry. He is a member of the American Dental Association, Academy of General Dentistry, and several other professional organizations. He practices at Dental Expressions and can be reached for more information through his website.
Comments Off

on Your Cosmetic Dentist in Kaukauna Delivers Dream Smiles
No Comments
No comments yet.
RSS feed for comments on this post.
Sorry, the comment form is closed at this time.