February 22, 2022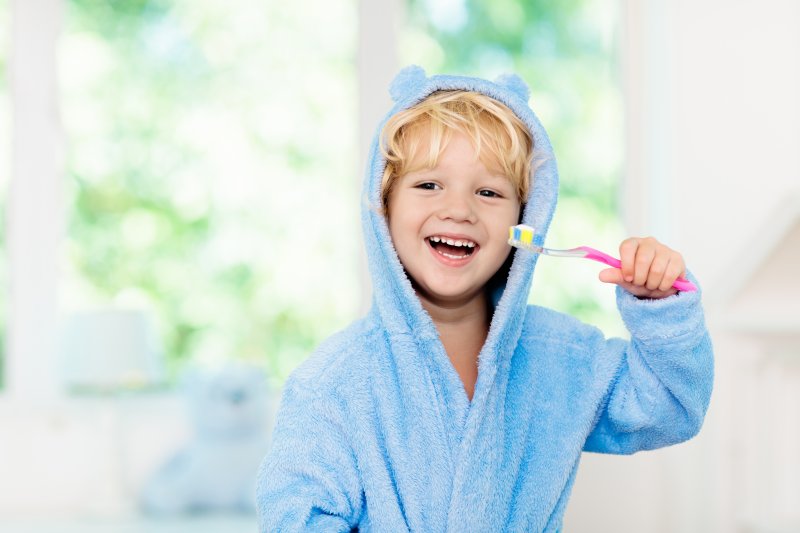 Aside from Valentine's Day, February is also considered Children's Dental Health Month! Now's a great time to learn how to improve your little one's oral health and encourage a clean smile. Making a game or family activity out of brushing and flossing is always a great way to make things exciting. However, there are also several dental hygiene products your child can have fun with. Read on to learn four items your children's dentist in Freedom thinks are great for your young one's teeth.
Product #1: GumChucks!
Kids love playing with beloved characters, and when it comes to healthy teeth, there's no better protagonist than Plaque Man. This adorable little hero comes with the GumChucks for Kids—flossing tools in the form of miniature nunchucks. Your child will enjoy looking at the character trading cards while also being challenged to master the art of flossing.
Product #2: Waterpik Water Flosser for Kids
As an alternative to traditional flossing strings, using a Waterpik Water Flosser can effectively remove debris from between the teeth. By using water pressure to spray an accurate stream, this device can clean your child's teeth and gums in a safe and exciting way. Plus, it includes stickers for your little one to decorate with!
Product #3: BrushyBall
Since kids always want to play games, one great hygiene product is the BrushyBall. This is a bright yellow animated coach that teaches your child how to brush their teeth with correct technique. By listening to its cute voice, your little one will be guided through a follow-the-leader type game to keep great oral health.
Product #4: Electric Toothbrush
Who wouldn't want to try a cool electric toothbrush? Not only are they way more interesting than normal brushes, they can also clean your teeth more efficiently. In addition, some products like the Sonicare FlexCare Platinum Connected, when connected to your smartphone, can show you if you missed any teeth while brushing! By using these high-tech devices, your young one will have a blast and a better chance at preserving a healthy smile.
With these dental hygiene items, you can ensure your child has loads of fun while also improving their cleaning techniques. And if you want to know how else you can promote your child's oral health, your dentist is always happy to help!
About the Practice
Dental Expressions provides outstanding and relaxing dental services for Freedom, WI and the surrounding communities. Using the latest technologies, their team offers a wide range of treatments to help maintain great smiles for you and your little one. If you want to know about other dental hygiene products for kids, visit their website or call (920) 788-6280.
Comments Off

on 4 Exciting Dental Hygiene Products for Kids
No Comments
No comments yet.
RSS feed for comments on this post.
Sorry, the comment form is closed at this time.