August 13, 2021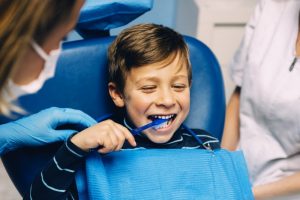 As a parent, you naturally want your son or daughter to do well in school. Of course, that's much easier said than done! When it comes to your child's academic performance, so many factors come into play. One of these that you might not have considered is your little one's oral health. Research suggests that if a child has a healthy smile, they're more likely to perform well in their classes. Read on below as a children's dentist in Freedom reveals the reasons why – and how you can make sure your child's smile is as healthy as can be!
How Does Good Dental Health Improve My Child's Grades?
Great oral health can affect your child's academic performance in many ways, including:
Fewer Absences
Kids with oral health issues will likely need to be taken out of class more frequently for dental appointments. The more often they miss lessons, the more likely they are to fall behind their peers and do poorly on assignments. By maintaining a healthy smile, your son or daughter should be able to remain in school for the entire day and not miss important information.
Improved Focus
Cavities and other dental problems can be uncomfortable or even painful. If your child is suffering from tooth decay, their discomfort can prevent them from fully focusing on homework and in-class assignments. Getting these issues treated can greatly reduce the distractions in your child's academic life.
Higher Self-Esteem
It's not uncommon for older kids to have insecurities about their appearance, which includes their smile. A child with low self-esteem is more likely to distance themselves from teachers and other students. They might avoid making friends, raising their hand to ask questions, or participating in class activities. By addressing visible dental flaws, like chipped or crooked teeth, you can help your child feel confident enough to make the most of their time at school.
How Can I Keep My Child's Smile Healthy?
To minimize your child's risk of oral health problems, you should:
Make sure your little one is brushing twice a day and flossing once a day. This prevents cavity-causing bacteria from accumulating in the mouth.
Take them to see their family dentist every six months for a checkup and cleaning. Not only will the hygienist remove built-up plaque, but the dentist can detect early signs of health concerns and address them before they worsen and negatively impact your child's education.
Offer mouth-healthy snacks and meals. Avoid packing too many sugary and starchy foods in their lunchbox. Instead, choose nutritious items like apple slices, baby carrots, yogurt, and cheese.
Oral health affects your child's academic performance more than you might have realized! Be sure to set your child up for a successful school year by helping them keep their smile healthy.
About the Authors
Husband-and-wife dental team Dr. Robert "Bob" Heil and Dr. Heather Heil have more than two decades of experience providing expert, compassionate care to families in the Freedom, WI area. They offer an array of services to help kids' smiles stay healthy, including dental sealants, fluoride treatments, and athletic mouthguards. To start your child's school year off on the right foot, contact Dental Expressions at 920-788-6280.
Comments Off

on How a Healthy Smile Can Boost Your Child's Grades
No Comments
No comments yet.
RSS feed for comments on this post.
Sorry, the comment form is closed at this time.