August 10, 2019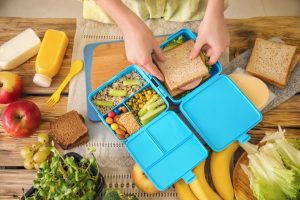 The start of each new school year is a fresh slate and the perfect time to establish good habits that will help your child have a great year. One example is packing a low-sugar, healthy lunch each day that not only tastes great but also improves their oral and overall health. Along with scheduling a back-to-school checkup with a children's dentist, wholesome food choices are one of the best things you can do to prevent cavities and make sure their smile stays healthy. Learn more below!
The Impact of Sugar
Each time your child consumes something with sugar in it, acid is produced by the bacteria in their mouth that leads to tooth decay. Unfortunately, sugar is in everything these days, which not only puts a child's teeth at risk but also increases their chances of childhood obesity and diabetes.
While it's fine for kids to occasionally enjoy something sweet, packing a healthy lunch each day will go a long way towards keeping them healthy. Here are a couple of general guidelines to keep in mind:
Read labels –Since sugar is in so many processed foods, focus on whole foods as much as possible. When you do choose a food or beverage with an ingredient list, be sure to check the nutrition label for sugar content.
Be aware of hidden sugar– A lot of foods seemhealthy but actually have a very high sugar content. Examples include many yogurts, juices, and dried fruit.
Avoid anything sticky or "gummy" – Foods like fruit roll-ups, gummy candies, or taffy that easily stick to your child's teeth are especially harmful. If these foods are eaten as a treat, be sure to brush your child's teeth afterward.
Easy Ideas For a Healthy Lunch
While each child has their own taste preferences, here are some easy, low-sugar ideas to get you started:
String cheese
Nuts
Guacamole and veggies
Deviled eggs, egg salad, or simply boiled eggs with salt
Coleslaw
Spinach dip with veggies
Plain (sugar-free) yogurt with fresh or frozen berries
Peanut butter and celery
Lunch meat and cheese "roll-ups"
Popcorn with a little garlic salt and parmesan cheese
Meatballs
Olives
Cheesy broccoli and cauliflower
A small piece of dark chocolate as an occasional treat
What Else Can You Do For Your Child's Oral Health?
Along with healthy school lunches, be sure to encourage them to brush at least twice a day and floss once. Many children struggle with this, but remember that their habits don't have to be perfect, just as consistent as possible.
Also, be sure to schedule 6-month cleanings and checkups with a children's dentist.  These visits are the best way to catch small cavities and other issues early on. You can also get preventive services like fluoride treatments to strengthen their enamel and sealants to protect their back teeth from developing tooth decay.
These tips, along with a nutritious lunch each day, will keep your child's smile healthy the entire year!
About the Author
Dr. Heather Heil  is a children's dentist with 20 years of experience and also a mother of four. She understands the challenges of packing a healthy lunch for kids each day that doesn't put their oral health at risk and always gives parents tips to make it easier. If you have any questions about good dietary choices for your child, she can be reached via her website.
Comments Off

on A Children's Dentist Gives Tips For Packing a Healthy Lunch For Your Child
No Comments
No comments yet.
RSS feed for comments on this post.
Sorry, the comment form is closed at this time.