July 21, 2021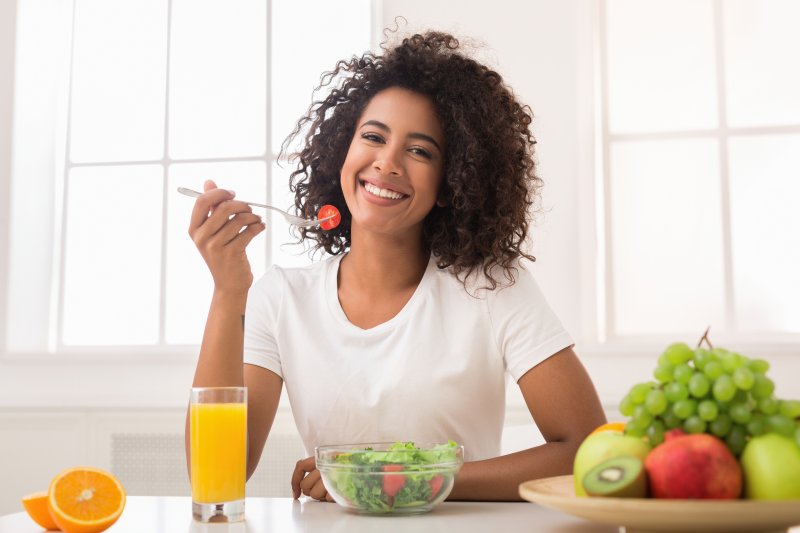 Everyone knows that a well-balanced diet is essential to promote overall wellness. But did you know certain foods can protect your smile? It's true! Although it may not be obvious, following a healthy dietary regimen and being conscious about what you consume can do wonders for your mouth and body. Read on to find out which foods benefit oral health the most.
How Does Diet Affect Your Smile?
Eating plenty of sugary, starchy, and highly processed foods is just as harmful to your mouth as it is for your body. Bacteria like to feed on these food particles and produce harmful acids that wear away your enamel, making your teeth more prone to decay, cavities, and even gum disease. On the other hand, eating a well-balanced diet that includes whole grains, fresh fruits and vegetables, dairy, and protein can promote good oral health.
Which Foods Benefit Oral Health?
The following foods and drinks can strengthen your teeth and keep your mouth bacteria-free while simultaneously providing your body with the nutrients it needs to thrive.
Dairy Products
Dairy products, such as cheese, plain yogurt, and milk, are high in calcium and protein. They're some of the best foods for oral and bodily health because it keeps your teeth and bones strong. They also encourage your mouth to produce more saliva, which is a natural cleansing agent. If you're allergic or sensitive to dairy, try calcium- and protein- fortified alternatives instead (i.e., almond, soy, or cashew milk).
Leafy Greens
Kale, spinach, chard, or collard greens are jam-packed with vitamins and minerals that promote good oral health. They're rich in calcium, folic acid, and B vitamins. Plus, they're low-calorie, meaning you can eat as many as you want!
Crunchy Vegetables
Firm, crunchy veggies like celery and carrots help stimulate good saliva production. They require significant chewing effort, and their texture helps scrub away food particles and bacteria. Carrots also have the added benefit of being a great cavity-fighting vegetable!
Apples and Pears
Apples and pears are fibrous fruits that can help clean your teeth, increase salivation, and neutralize acids in your mouth. Like crunchy vegetables, they also require significant chewing, which helps increase saliva flow and reduce cavity-causing bacteria. Plus, fresh fruits contain natural sugars, meaning you can satisfy your sweet tooth without putting your smile at risk!
Almonds
Almonds are one of the most beneficial nuts because they help ward off bacteria that lead to tooth decay. They're also a good source of calcium and protein while being low in sugar, making them the ideal snack that benefits your health.
Your dietary patterns and food choices play a critical role in maintaining good oral health. By knowing which foods are best for your mouth, you can do your part in maintaining a happy, healthy smile for years to come!
About the Practice
Our team at Dental Expressions uses the latest technologies and techniques to provide you with dental care beyond what's anywhere else. We offer comprehensive services to help you achieve all your oral health needs. To learn more about which foods can benefit your smile, visit our website or call (920) 788-6280.
Comments Off

on The Best Foods for a Beautiful, Healthy Smile
No Comments
No comments yet.
RSS feed for comments on this post.
Sorry, the comment form is closed at this time.