December 20, 2019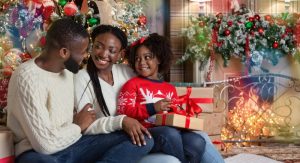 The holidays can be a stressful time of year, especially if you experience a dental emergency right before your family is supposed to arrive from out of town. Fortunately, there are certain precautionary measures you can take to avoid problems like severe toothaches, dental damage, and broken restorations. With these four tips from your emergency dentist, you'll be able to get the most out of your holidays and enjoy valuable family time.
Get Your Checkup and Cleaning Before You Celebrate
As soon as you start preparing for your family's out-of-town arrival for the holidays, it'll be impossible to fit your routine checkup and cleaning with your dentist into your schedule. That's why it's a good idea to schedule your appointment beforehand.
Many people wonder why it's important for them to visit their dentist every six months when they're diligent about brushing and flossing at home. The answer is: your team of dental professionals is specially trained and equipped to remove tartar and plaque from the deepest hard-to-reach crevices of your mouth to prevent oral health problems from developing. With professional preventive care, you can reduce the chances that a pesky dental emergency will ruin your holiday celebrations.
Limit Your Consumptions of Carbs and Sugar
The holidays typically mean snacking on more foods filled with sugar and carbohydrates. Unfortunately, these two substances also feed harmful oral bacteria in your mouth, allowing them to produce waste like enamel-eroding acid and inflammation-causing toxins. When you're careful to not eat too many sweet treats, you can avoid a severe toothache caused by an infection.
Manage Your Stress
It's no surprise that managing your stress is an important way to take care of yourself during the holidays, but you're probably wondering what stress has to do with dental emergencies. When you become anxious or worried, your body will form harmful oral habits such as nail-biting and nightly teeth grinding. Unfortunately, these can cause excessive enamel erosion and leave your teeth vulnerable to being attacked by harmful oral bacteria. They can also cause them to break, chip, and crack more easily. The best way to prevent an unexpected visit to the emergency dentist is to take time for yourself during the holiday season and step away from any situation that is causing you distress.
Don't Put Off Your Dental Hygiene Routine
With so much on your plate that you need to get done before your family gets into town, you may forget to brush, floss, or wash your teeth. This can cause serious oral health problems develop, affecting the most joyous time of the year. When plaque, tartar, food debris, and harmful oral bacteria aren't regularly cleared from your mouth, they can cause severe cavities, bad breath, enamel erosion, and countless other issues. That's why it's important to make time every morning and night to brush, floss, and rinse your mouth with antibacterial wash.
If you find yourself in a dental dilemma during the holidays, don't hesitate to contact your emergency dentist right away. Putting off treating an issue that's causing you pain or discomfort will likely only make it worse in the long-run.
About the Author
Dr. Heather Heil has been practicing dentistry since 1999. She is passionate about helping relieve her patients discomfort and restore their oral health by providing them with fast and effective emergency dental care. She enjoys treating patients of all ages and looks forward to providing everyone that walks through her doors with the knowledge and tools they need to keep their teeth and gums healthy and happy. For questions or to schedule an emergency dental appointment, visit Dental Expressions' website or call 920-788-6280.
Comments Off

on 4 Tips to Avoid Dental Emergencies Over the Holidays
No Comments
No comments yet.
RSS feed for comments on this post.
Sorry, the comment form is closed at this time.