February 7, 2020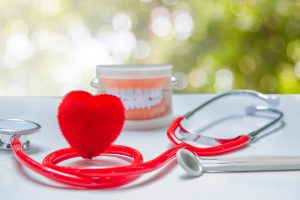 It's perfect that February is all about love and hearts since it's dedicated as American Heart Month! Now is a great time to pause making Valentine's Day dinner plans and buying flowers to reflect on the health of your heart. When you think about taking care of this vital organ, do you think about flossing? A growing body of research suggests that we should. Recent studies show that the health of your gums plays an important role in the health of your heart, which may be why February is also National Gum Disease Awareness Month! Read on to learn more about this important connection and how a healthy smile is good for your heart.
Understanding Periodontal Disease
Periodontal (gum) disease is an incredibly common condition that over 80% of Americans suffer from. The earliest stage is called gingivitis, which is a bacterial infection in the gum tissue. This is typically caused by a buildup of plaque and tartar, which results in swollen, tender, and easily bleeding gums. While these initial symptoms don't cause any permanent damage and may be easy to overlook, the same cannot be said for the advanced stage of gum disease, known as periodontitis.
Periodontitis is the leading cause of tooth loss in the US. This stage indicates that the bacteria has spread and become much more destructive. It can infect the jawbone and attack the connective tissues that hold your teeth in place, eventually causing them to fall out. Unfortunately, researchers believe that the negative effects of gum disease don't stop at your smile.
Linking Gum Disease to Heart Health
A number of recent studies indicate that the presence of an oral infection like gum disease can raise a person's risk of cardiovascular disease by 20%. Although more research is needed, experts suspect two main culprits behind this connection:
Harmful bacteria: If the destructive bacteria at the root of gum disease were to escape into the bloodstream, it could travel to the heart and infect the inner linings of its chambers and valves.
Inflammation: A prolonged immune response to gum disease could spread inflammation throughout the body to narrow or clog important arteries.
Keeping Your Smile and Heart Healthy
Thankfully, the early stages of gum disease can be prevented and even reversed with great oral hygiene. To keep your gums healthy and lower your risk of heart disease:
Brush your teeth for two minutes twice a day.
Use dental floss to clean between your teeth every day.
Get a dental checkup and cleaning twice a year.
If you're concerned about the health of your gums or notice that your gum tissue is sensitive, inflamed, or bleeds easily, your dentist can help. When you take the time to care for your oral health, both your smile and your heart will thank you!
About the Author
Every routine dental checkup at Dental Expressions in Freedom, WI includes a thorough periodontal exam to check on the health of your gums. If Drs. Robert or Heather Heil detect any early tell-tale warning signs of gum disease, they can prevent it from causing larger issues. They also offer efficient and effective non-surgical periodontal therapy for those who need additional support. Protecting your oral and overall health is their number one priority, so don't hesitate to contact them at their website or at (920) 788-6280.
Comments Off

on Is Keeping Your Gums Healthy Good for Your Heart?
No Comments
No comments yet.
RSS feed for comments on this post.
Sorry, the comment form is closed at this time.