March 11, 2021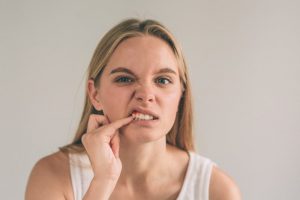 Did you know that gum disease is the leading cause of tooth loss in the United States? Unfortunately, studies estimate that well over half of the population has some form of this dangerous oral health condition. While it's most often brought about by poor oral health and a lack of flossing, there are also certain habits, medications, and health issues that could be putting you at a higher risk of gum disease. Thankfully, a little awareness about these risk factors can go a long way in keeping your smile healthy. Read on to learn more about the top seven most common risk factors of gum disease.
1.) Weakened Immune System, Diabetes, & Stress
Your immune system helps protect you from infections. However, if it's not as strong as it should be because of stress, autoimmune disorders, or other health conditions, your gums are at a higher risk of developing gum disease. If you have one of these risk factors, be diligent about practicing great oral hygiene to keep your smile healthy!
2.) Specific Medications
Researchers report that certain medications, such as oral contraceptives, steroids, anticonvulsants, calcium channel blockers, antihistamines, and chemotherapy can increase risk of gum disease. Many of these medications cause dry mouth, which makes it easy for bacteria to grow in the mouth and attack the gums. Patients who take these medications should drink plenty of water to combat this.
3.) Crooked Teeth & Poor Oral Hygiene
Bad dental habits and misaligned teeth both promote plaque and bacteria accumulation and increase your risk of a variety of oral health conditions. Make sure to brush your teeth for two minutes twice a day and floss daily to lower your risk of gum disease.
4.) Obesity & Lacking Nutrition
Obesity reduces your body's immune system, which puts your gums at risk of infection. Additionally, a sugary, unhealthy diet provides more fuel for the bacteria at the root of gum disease. Keep yourself and your smile healthy by eating a low-sugar, nutritious diet.
5.) Bruxism or Grinding Your Teeth
Clenching and grinding your teeth, particularly in your sleep, is a condition known as bruxism. Not only does this extra pressure damage and weaken the gum tissue, but it can accelerate gum recession and deterioration caused by gum disease. If you grind your teeth, talk to your dentist about getting a custom nightguard.
6.) Hormone Changes in Women
Women undergo hormonal changes that can cause a boosted inflammatory response to plaque and bacteria in the mouth. This especially happens during pregnancy, which typically results in "pregnancy gingivitis." If you are expecting, be sure to diligently practice great oral hygiene to keep you and your baby safe from gum disease.
7.) Smoking or Chewing Tobacco
Tobacco is bad for many parts of your body, including your mouth and gums. Smoking or chewing tobacco dramatically lowers your body's natural healing ability and can interfere with how effective gum disease treatments are for you! A higher risk of gum disease is just one of many good reasons to quit this bad habit.
Whether you're at a higher risk of gum disease or not, everyone should get a dental checkup and cleaning twice a year. Your dentist can give you personalized preventive care and spot the earliest signs of gum disease.
About the Practice
At Dental Expressions, we're dedicated to helping patients in Freedom and the surrounding communities keep their teeth and gums healthy for life. That's why a gum health check is an integral part of every dental checkup as well as patient education about their risk of oral health issues like gum disease. If needed, we can perform scaling and root planning or antibiotic therapy to treat the earliest stages of gum disease and restore your healthy smile. If you're concerned about gum disease, don't hesitate to reach us via our website or at (920) 788-6280.
Comments Off

on The Top 7 Most Common Risk Factors of Gum Disease
No Comments
No comments yet.
RSS feed for comments on this post.
Sorry, the comment form is closed at this time.