March 16, 2023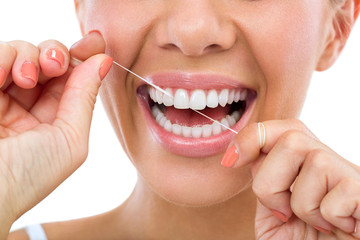 As Spring approaches, many people feel motivated to clean and refresh their surroundings. This season also presents the perfect chance to give your teeth a thorough cleaning. While you're tidying up your home and preparing for the warmer weather, don't forget to give your smile some extra attention. To help you take good care of your teeth, here are five tips for spring cleaning your pearly whties.
#1: Floss Your Teeth
In order to maintain good oral hygiene, it is essential to floss regularly as it removes plaque and food particles from hard-to-reach areas that your toothbrush cannot access. Especially before going to bed, flossing plays a vital role in preventing the buildup of plaque that can result in tooth decay and gum disease. So, to keep your teeth and gums healthy, make sure to include flossing in your daily dental routine.
#2: Upgrade Your Toothbrush
It's important to maintain good oral hygiene by replacing your toothbrush every three to four months. You may need to do this sooner if the bristles look frayed or worn out. This could indicate that you're brushing too hard.
After an illness, replacing your toothbrush is also crucial. This will help you avoid reinfection. Additionally, consider switching to an electric toothbrush as it can help with plaque removal and enhance your overall dental hygiene routine.
#3: Clean Your Toothbrush Holder
Toothbrush holders can be a breeding ground for harmful bacteria and germs. Therefore, it is crucial to clean them regularly using vinegar, hydrogen peroxide, soap and water, or a disinfectant spray. Another effective way to sanitize the holder is to soak it in a solution of bleach and water for 30 minutes. Remember to rinse the holder thoroughly after cleaning.
#4: Schedule a Professional Teeth Cleaning
Regular dental check-ups every six months are essential to maintain good oral health. During the check-up, your dentist or hygienist will clean your teeth to remove any tartar or plaque buildup. They'll also examine your mouth for signs of oral health issues. By keeping your teeth and gums healthy, you can prevent the need for costly dental treatments down the line.
#5: Cut Out Bad Habits
Harmful habits such as tobacco use, too high of a sugar intake, and excessive alcohol consumption can damage your oral health, leading to cavities, gum disease, dry mouth, and even oral cancer. Quitting these habits is crucial for maintaining a healthy smile.
Seek help from your dentist, doctor, or mental health professional if you need assistance in quitting smoking or drinking. Additionally, seek support from your friends and family to overcome these habits and improve your oral and overall health.
About the Practice
Dental Expressions is a team of skilled professionals who provide top-notch preventive dental services to keep your teeth healthy and protect them from damage. With Dental Expressions, you can expect compassionate care and exceptional service that puts your dental health first. By addressing potential dental health issues before they become bigger problems, they can help you maintain your oral health and avoid costly procedures. Whether you're looking to schedule an appointment or have questions about their treatment options, you can reach out to their office at (920) 788-6280 or visit their website for more information.
Comments Off

on 5 Tips for Spring Cleaning Your Smile
No Comments
No comments yet.
RSS feed for comments on this post.
Sorry, the comment form is closed at this time.