January 16, 2021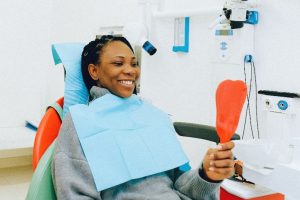 Did you know your toothbrush and floss aren't enough to keep your smile healthy? Your teeth and gums also rely on regular care from your dentist in Freedom. The American Dental Association recommends having a cleaning and checkup at least every 6 months. Although 2021 just started, there are 5 benefits of visiting your dentist early in the year. Here's why you should keep a cleaning and checkup at the top of your priority list.
1. Your dental benefits have been reinstated.
Your dental insurance plan is a monthly investment designed to preserve your oral health. Unfortunately, your policy doesn't last forever. It expires at the end of the year. Thankfully, your benefits were reinstated on the 1st of the year which means you have access to the comprehensive coverage you need to visit your dentist for reduced rates.
2. Reach your deductible early.
Although your dental benefits focus on prevention, you also have coverage for restorative treatments. After paying your deductible, you can use your annual allowance to reduce the amount you need to pay for common treatments, like root canals and tooth extractions. On average, less than 3% of Americans meet or exceed their annual limits. You can help ensure you don't throw money away by reaching your deductible early to maximize your yearly benefits.
3. Reduce your oral health expenses.
You can cut your expenses throughout the year by having a dental checkup every 6 months. Research shows every $1 spent on prevention can save as much as $50 on restorative and emergency care. Your routine cleanings and checkups allow your dentist to monitor your oral health to decrease the likeliness of needing a costly treatment down the road.
4. Prevent dental emergencies.
16% of the population misses work each year because of an oral health issue. Although you might never anticipate it to happen to you, 1 in 6 Americans faces a dental emergency annually. You can significantly lower your risk of needing immediate dental attention by visiting your dentist early. They will ensure there aren't any untreated oral health concerns lingering in your mouth that can turn into a big problem when you least expect it.
5. Give your confidence a boost.
Research shows the appearance of your teeth directly influences your self-esteem. You can head into the new year looking and feeling your best by ensuring your smile is in tip-top shape. Your dentist will remove any unsightly tartar accumulations and treat any dental issues to give you the healthy, confident smile you deserve during the months ahead.
Invest in Your Smile
Don't wait until it's too late to see your dentist. Schedule a cleaning and checkup soon to invest in your oral health in 2021.
About Dr. Robert Heil
Dr. Heil earned his dental degree at the University of Minnesota School of Dentistry. He is a member of various dental organizations, including the American Dental Association and Academy of General Dentistry, to help his patients achieve their best smiles. If you need a preventive visit, contact our office today to schedule an appointment.
Comments Off

on 5 Reasons to Schedule Your Dental Checkup Early
No Comments
No comments yet.
RSS feed for comments on this post.
Sorry, the comment form is closed at this time.