August 1, 2023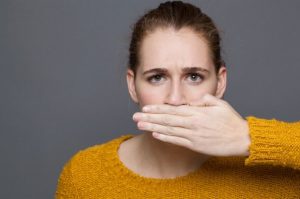 August 6th is dedicated as National Fresh Breath Day to help raise awareness about halitosis. It's normal to have bad breath occasionally, like after eating garlic or onions, but it shouldn't be an ongoing problem. Unfortunately, 35%-45% of people around the world experience bad breath. 90% of bad breath sufferers spend over $400 every year combating halitosis. If you're embarrassed by unpleasant odors, here are 5 common culprits behind bad breath.
1. Tooth Decay
Although cavities are preventable, 92% of adults have had at least one. They are caused by bacteria that erodes enamel, leading to decay. Cavities can cause a bad odor and many other symptoms, like tooth sensitivity or pain.
2. Dehydration
A dry mouth is a perfect environment for harmful oral bacteria growth. If you're not drinking enough water, you may not produce enough saliva to keep your mouth moist.
3. Smoking
Smoking and tobacco can make your mouth dry. Smoking can also leave foul odors behind. Not to mention, it increases your risk of several dental problems, including tooth decay, gum disease, and oral cancer.
4. Diet
The foods and drinks you consume can contribute to halitosis, like drinking a lot of coffee. Sugary or starchy foods feed cavity-causing bacteria that can increase the risk of halitosis.
5. Infections
Oral infections, like an abscessed tooth or gum disease, can leave a bad taste in your mouth. However, they can also cause ongoing bad breath that won't go away until after the infection has been treated.
Preventing Bad Breath
Chewing gum or sucking on mints can provide a temporary fix for halitosis. However, you can prevent and treat bad breath for good using a few tips:
Practice Good Oral Hygiene: Brush your teeth at least twice a day for 2 minutes each session and floss every night before going to bed. Finish your routine with an antimicrobial mouthwash to kill any bacteria missed by brushing and flossing.
Live a Healthy Lifestyle: Eat nutritious foods and limit your intake of sugars and starches. Avoid smoking and alcohol to invest in a healthy mouth and body.
Stay Hydrated: Healthcare professionals recommend drinking at least eight 8oz glasses of water every day to keep your body hydrated and your mouth moist.
Visit Your Dentist: Visit your dentist every 6 months for a cleaning and checkup to ensure there aren't any untreated dental issues hiding in your mouth, like cavities. They'll give your teeth a good cleaning to remove odor-causing bacteria.
By giving your teeth and gums the attention they deserve, you won't think twice about bad breath.
About Dr. Heather Heil
Dr. Heil achieved her dental degree from the University of Minnesota School of Dentistry and has regularly continued her education in various specialties to provide up-to-date services. She strives to help each patient achieve optimal wellness through great dental health. If you're battling bad breath, request an appointment online or call (920) 202-5273.
Comments Off

on August 6th is National Fresh Breath Day
No Comments
No comments yet.
RSS feed for comments on this post.
Sorry, the comment form is closed at this time.