August 9, 2023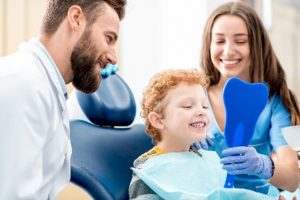 As you prepare your child to head back to the classroom, school supplies and a backpack aren't the only things they need to succeed. The U.S. Department of Health and Human Services reports that 51 million hours of school are lost every year because of dental problems. You can ensure they don't miss valuable time in the classroom by following 4 tips to keep their teeth and gums healthy to avoid dental emergencies.
1. Schedule a Cleaning and Checkup
Children should see their dentist every 6 months for a cleaning and checkup before their first birthday. Routine dental care keeps preventable oral health issues at bay, like cavities and gum disease. Many dental emergencies result from untreated oral health problems, like tooth decay. Although you may never expect it to happen to your family, 1 in 6 Americans experience a dental emergency annually. A quick trip to their dentist before the new school year is a simple way to support their dental health and academic success.
2. Invest in an Athletic Mouthguard
According to the American Dental Assistants Association, sports are responsible for 15 million dental emergencies each year. An athletic mouthguard significantly reduces the risk of oral health injuries. It provides a protective barrier for the teeth and gums. It also lessens injuries to the jaw and may prevent concussions. You can ensure your child has maximum protection for the upcoming season by investing in an athletic mouthguard.
3. Limit Sugary Foods and Drinks
Did you know cavities are more common than childhood asthma?
20% of children between the ages of 5 to 11 have untreated tooth decay. As you pack their lunch for school, choose nutritious foods that are limited in sugars and starches. Avoid any sugary drinks, including fruit juice. It's best for your child to drink water whenever possible. It'll keep their mouth healthy and their body hydrated to feel their best.
4. Encourage Good Oral Hygiene
Life can get a little chaotic during the school year, but your child should brush their teeth at least twice a day. Encourage them to clean all surfaces of their teeth for at least 2 minutes. Besides brushing, children should floss daily starting at the age of six. It will remove any buildup missed by their toothbrush.
Don't let a toothache interrupt your child's school year. By keeping their teeth and gums healthy, you'll support their oral and general wellness. They will look and feel their best during the year ahead.
About Dr. Heather Heil
Dr. Heil earned her dental degree from the University of Minnesota School of Dentistry and has regularly continued her education in various specialties to provide services for patients of all ages. She is committed to helping each patient achieve optimal wellness through great dental health. If your child needs a cleaning and checkup, request an appointment online or call (920) 202-5273.
Comments Off

on Back-to-School Tips to Prevent Dental Emergencies
No Comments
No comments yet.
RSS feed for comments on this post.
Sorry, the comment form is closed at this time.